BROADCAST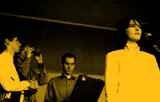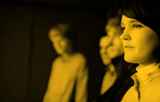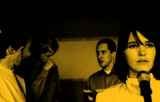 Being a huge fan of altern-Europop sensations Komeda, I have to admit that when I first heard '60s-influenced, dream-pop melodies of the band Broadcast, I couldn't help but wonder who they were and where they came from.
Broadcast are Trish Keenan (vocals), Roj Stevens (keyboards), James Cargill (bass), Tim Felton (guitar), Keith York and Steve Perkins (drums), all hailing from Britain.
Their debut album, The Noise Made By People has too many soothing, happy, dreamy songs to go through. But my favorites are "Papercuts" and "Minus One." If you like this CD, then get the Extended Play EP (which I actually think is better than this one - hint hint.)
I first heard one of their songs on the Austin Powers soundtrack, and then in a coffee house in San Francisco one gloomy Sunday morning, I heard their entire CD. I haven't stopped listening since.
More Info on Broadcast: