BUST magazine is a pop culture feminist publication from New York, NY. As a contributing writer, I've published articles about fashion, gardening, movies, books and music. I've also interviewed such celebrities as punk rock legend Exene Cervenka, John Waters' film star Mary Vivian Pearce and San Francisco fashion maven Willow O'Brien.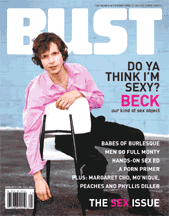 The following are some of the articles I've written for Bust:
"A Beer on Every Page," Exene Cervanka interview and book review, Fall 2002, pg. 94
"Fashionista: KitKitdodge," Willow O'Brien interview,
Summer 2003, pg. 29
"Greatful Dreads," Hairpolice/Sonia profile,
Summer 2003, pg. 32
"Dear John," Mary Vivian Pearce / John Waters profile,
Summer 2003, pgs. 68-71
"X Marks the Box: Treasure Hunts for Grown-ups"
Summer 2004, pg. 27
"The Green Party: Stubborn houseplants that can survive even you"
Aug/Sept 2006, pg. 28
CLICK HERE to go to BUST magazine.