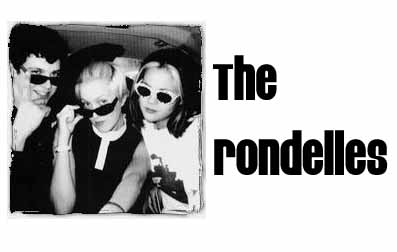 When you want to listen to an indie band that has 80s sensibilities with enough punk pop sass to keep you in check, then you have the Rondelles. Much like The Donnas, this band hit stardom before they were even out of high school in Albuquerque, New Mexico! Band members Yukiko Moynihan (bass, vocals), Juliet Swango (guitar, vocals) and Oakley Munsen (drums, keyboards, vocals) found themselves on some really impressive tours with heavy hitters like Sleater-Kinney and Sonic Youth.
Now dwelling in Washington, D.C., the Rondelles' latest release Shined Nickels and Loose Change, shows the band at its best. With songs like "T.V. Zombie" and "Cafeteria Rock" you feel compelled to listen closely for amusing and witty lyrics. This CD is chock full of tracks from previously released compilations and singles, including six brand new songs.
I love that this band does killer covers of Modern English's "I'll Melt With You" and Madonna's "Like a Prayer."
I can't tell you how much I love this CD. If you don't pick up Shined Nickels and Loose Change you're losing out!
More Info on the Rondelles: