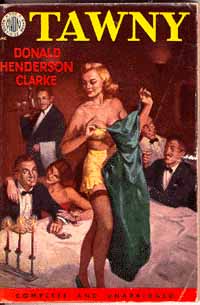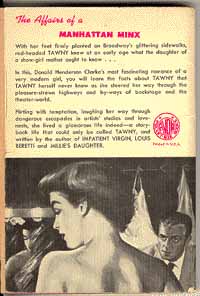 "She was a child of glamour. Tawny , who is as diverting a girl as ever Donald Henderson Clarke described, knew how to rise above the other show girls of Broadway. For red-headed Tawny had the advantage of having learned the secrets of love and emotion from her parents, both highly skilled in the ways of life.
Birdy, Tawny's chorus girl mother, returned to the stage only after she'd given the young girl an appetite for pleasure and taught her the methods of bringing men to her feet. Dave, Tawny's officer father, took up where Birdy left off and gave his red-headed daughter a code of honor and the courage to take her chance with fate.
On her own, Tawny's career was a succession of parties, romances, and exciting scrapes. The stage, artist's studios, and marriage all played their roles in her career as she struggled to find the right road to happiness through a labyrinth of male deception and female jealousy.
Donald Henderson Clarke's Tawny is an outstanding romantic adventure in the most glamorous and most merciless city of the world. Read it for sheer entertainment."