August 23, 2005
Memories of The Musee Mechanique
Awhile ago I went with friends down to Fisherman's Wharf to get a halfway decent Irish Coffee and get a glimpse into a time I was never a part of with a trip to The Musee Mechanique.
I had never visited it when its home was the Cliff House by the ocean. So I'm sure purists reading this realize that I missed my chance to truly appreciate all these antique coin-operated games and attractions in a proper setting. Nonetheless, I take it anyway I can get, and this was just fine.
I spent hours roaming among the jumping marionettes, animatronic fortune tellers and drunk elves. If I had my way, my apartment would look a lot like this place. I could imagine how many kids these things entertained over the years before children became bored with reality and demanded pixelated pastimes.
Regardless, I loved these attractions more than any arcade or amusement park I had been to in years. These games had a history. They were made by hand. And they were creepy as all get out.
So I took pictures and plenty of them, to remind myself that tucked away in the most touristy part of San Francisco, there's still some soul left to dispense -- one quarter at a time.
Behold the The Musee Mechanique photos here.

August 22, 2005
Bachelorette Shindig!
For the first time in a really, really long time I took Friday off work. I was part of a 4-vehicle caravan to Lake Tahoe to celebrate the wedding-to-be of one of my best friends in the entire world -- Jen Sands.
She's been there for me during 4 boyfriends, 4 jobs and 3 apartments. She's made me free cocktails when I needed a bartender to cry to. She's invited me into her circle of pals and made me feel like a rock star even when I was just a wannabe. Heck, we even started a fake band together -- Bionic Bunnies complete with 5 songs about parking in San Francisco, and breaking up with losers.
I'm so happy to see her with a guy who can not only make her happy, but let her be herself without changing her into something she's not. So this weekend I spent it with her and about 15 of our gal pals getting boozed up, hot tubbed out and stuffed to the gills with tator tots. And I wouldn't want to celebrate her bachelorette party any other way. Atta girl, Jen!
See the proof of a grand 'ol time here on my photo blog.

August 14, 2005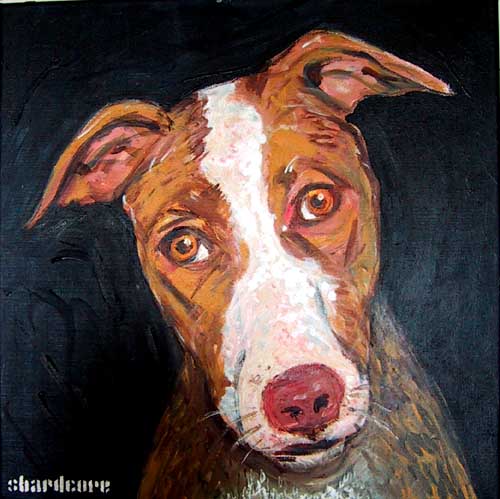 Mona Sophie
My artist friend of many years -- Shardcore -- painted this glorious portrait of the love of my life -- Sophie the Dog.
Originally he asked me for a photo of myself so he could paint a portrait of me. But since I honestly don't want a self-portrait in oil of me grinning like a goofball, I figured I should immortalize the best dog in the world on canvas.
See more of Shardcore's work here on his site.
Read my interview with him here on Grrl.com.

August 12, 2005
Jumping in the deep end again
Every artist, writer, creative cripple needs a Muse. I suppose I was without one for quite some time. We all find inspiration in the oddest or sometimes most predictable of places. Music has moved me into worlds that are easily dictated onto paper, but something for me was still missing. The spark. The divine spark that presses your buttons and pushes you over boundaries that you safely drew in the sand.
So at 1am in the morning, I'm all of a sudden inspired to finish writing my horror novel. I've finished a chapter, and I plan on writing more this weekend. I have no real set goals other than to complete the damn thing. I just need to have one draft and then I can gut and glean as much as I need to.
The hardest part for me was never the gorey details, the compounding horror elements or even the plot twists. But the sex scenes. I wasn't inspired. I think that might be changing. Lucky you.