Dec. 26, 2006
Utinni!
Double-stuffed OREO!

Dec. 21, 2006
Star Wars Action Figure Wreath
Deck the halls with your broken and extra action figures by using them in this festive wreath for the holiday season. It's a great way to get your toys in the yuletide spirit!
This wreath is a traditional green, but you can have fun making different themed wreaths featuring your figures such as all white for Hoth or red for Mustafar!
Get the step-by-step guide here on starwars.com:
Star Wars Action Figure Wreath
HAPPY HOLIDAYS!

Dec. 18, 2006
Lucasfilm Holiday Party
In the 4 years I've worked for Lucasfilm, this is by far the best company holiday party ever. We celebrated at the beautiful Recency Center in San Francisco, with not one, not two, but THREE floors of music, cocktails, food and fun!
Highlights include:
Super Diamond (the best Neil Diamond cover band in the world) playing us hit after hit. They even did a Journey medley!
Seeing all my co-workers dressed to the nines and having a blast.
Old-school Vegas Showgirls!
Check out the party evidence here on my Flickr blog: Lucasfilm Holiday Party

Dec. 12, 2006
Aquabats All the Way!
Superheroes dressed like Santa? A large fuzzy green monster waving from the stage? Fans flashing weird hand signals to songs? A video backdrop of mashups with retro kung fu movies, anime, skateboard movies and '80s secret shame TV clips? Ska dancing and jumping around like crazy fools without a care in the world? Yup. It's an Aquabats show.
I've never been to one, and now I'm a convert. Sign me up, I'm going to every show. I'm gonna buy a van and follow them everywhere. I'm an Aquabats cadet through and through. Super rad!
I went to THE AQUABATS! HOLIDAY JUBILEE 2006 show at Slim's last week -- thanks to being put on the guestlist by the opening band -- Army of Freshmen -- who I interviewed on starwars.com about their bassist Kai Dodson who has an extreme case of fandom (he has Star Wars tattoos and legally changed his middle name to Lando!)
I had no idea what I was in for. Aquabats can only be described as if GWAR were SKA. Or maybe a Nickelodeon animated show in live action form. All I know is that it was FUN. And it's hard to have a fun show in San Fran. We're all jaded, we've seen everything, and we don't care if you rock or not. But I promise you, Aquabats will bring out the inner kid in you really fast. Before I knew it I was waving hand signals for WOW, and jumping up and down giggling like a freak.
One of the most endearing parts of the show is when they threw the future into the past (as they put it) by asking any little kids in the audience (there were 3 -- ages 5, 5, and 7) if they wanted to stage dive at their first punk show. It was so cute. If these guys had been around when I was a kid, I would have conquered the world by now.
Not that these clips do them any justice, but here ya go!
VIDEO
The Aquabats live -- "Super Rad"
"Super Rad" video
The Aquabats -- "Pizza Day" live
Aquabats Intermission - T-shirt video and Bunny Fight
The Aquabats! vs. the Lobster-Man-Thing
Aquabats - Giant Robot Birdhead live
Giant Robot Birdhead commercial
FULL SHOW at Slims from May 2006
Part 1
Part 2
Part 3
Part 4
Part 5
LINKS:
Aquabats official site
Aquabats MySpace
Aquabats on Wiki

Dec. 11, 2006
Just another day at the office...

Dec. 10, 2006
Sebastian the Speederbike Squirrel...
...watches over us as we make the magic happen at Lucasfilm.

Dec. 8, 2006
R2-D2 Pinhole Camera Craft
Make your own R2-D2 pinhole camera with these simple instructions. I had a blast making this and you will too! Also found in Star Wars Insider magazine (Issue 91).
Click here for my image tutorial!

Dec. 6, 2006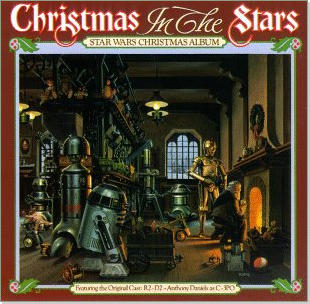 Deck the Halls with Singing Droids
What do droids, Chewbacca, legendary disco producer Meco and rocker Jon Bon Jovi have in common? They all celebrate the holidays on Christmas in the Stars: Star Wars Christmas Album. With memorable tunes such as "What Can You Get a Wookiee for Christmas (When He Already Owns a Comb?)" and C-3PO's retelling of a sci-fi infused "'Twas the Night Before Christmas," the album is a quirky addition to any holiday music collection. In fact, the record was so sought after by collectors, that in 1996 Rhino records and Lucasfilm, Ltd. decided to re-release Christmas in the Stars for eager fans.
The album's story takes place in a droid factory where robots trudge away at building toys year round for S. Claus. However they don't understand the meaning of Christmas until C-3PO and R2-D2 show them how to appreciate the holiday spirit. Even Artoo adds to the season festivities by learning how to whistle the catchy Christmas ditty, "Sleigh Ride." Later we learn who gets what from their wish list: a scarf for Luke Skywalker, perfume for Princess Leia and earmuffs for Han Solo.
Recorded in 1980, many of the album's songs were written by Maury Yeston, a Yale University music professor and composer. Producer Meco Monardo, who already topped the charts with his best-selling disco albums Star Wars And Other Galactic Funk and Encounters of Every Kind, envisioned and supervised the unusual project.
British actor Anthony Daniels lent his voice to reprise his role as C-3PO and Lucasfilm's sound artist Ben Burtt provided the sound effects of R2-D2 and Chewbacca.
However, the most trivia-worthy album liner note is the debut of a then 18-year-old Jon Bon Jovi, who ends up singing with a high school choir on "R2-D2 We Wish You A Merry Christmas." At the time the album was in production, Jon Bon Jovi , then known as John Bongiovi, swept floors and did odd jobs at the famous New York City recording studio Power Station, ran by Jon's cousin Tony Bongiovi. As Meco auditioned singers for Christmas in the Stars, Tony suggested Jon for one of the lead vocal parts, and the rest is caroling history. Soon after Jon's singing debut, he recorded his own demo at the Power Station which included a hit song called "Runaway." The single eventually lead to a deal with Mercury in 1983.
Even though Christmas in the Stars did not lead to a series of additional Star Wars holiday-themed albums as Meco initially had planned, the album still remains a favorite among movie and music collectors alike.
Click here for more info on the record on Amazon.