July 31, 2005
Sundays are for being a lazy dog
Sophie and I spent some quality time sleeping today.
We went for a long walk, and I ate a tasty avocado sandwich.
As I was tooling around on AIM and on Livejournal, I ended up taking a puppy snooze with Sophie.
Click here for really cute sleeping dog photos,
and one of me looking groggy.

July 30, 2005
San Francisco Bomb Scare
On July 30, 2005, the San Francisco police responded to a call about a suspicious-looking suitcase left on the corner of 9th and Judha. Thinking it was a bomb, they closed off the area for 3 hours.
Luckily it was a false alarm, but it did make me wonder. Everyday people leave stuff out in the open like that on street corners. I wonder if San Francisco neighborhoods will shut down every time this happens.
Check out my Flickr Blog images of the scare here.

July 29, 2005
Tour of Rancho Obi-Wan
At Lucasfilm it's well-known that if you find a Star Wars collectible, chances are Director of Fan Relations Steve Sansweet already has it in his museum aptly titled, "Rancho Obi-Wan."
Steve's museum is home to not only endless Star Wars toys, costumes, model kits, action figures and posters, but also classic film artifacts such as speeder bike and snowspeeder models, pieces of the krayt dragon skeleton, Mos Eisley Cantina creature masks (made from the original molds) and a Han Solo stunt pistol, to name just a few.
It was an honor to be let in to his amazing toy habitat, and thankfully this time I ventured in with my camera.

July 22, 2005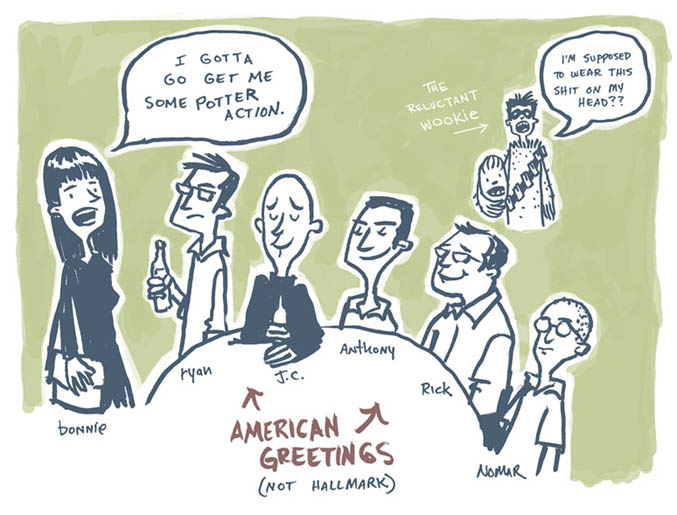 (drawing by Ryan from American Greetings)
Gettin' Some Potter Action
Remember when I briefly mentioned that I thought I may have given the Care Bear folks at Hallmark a bad impression when I met them at our Lucasfilm party at Comic-Con last week?
Well, first of all, they're not Hallmark, they're from American Greetings. And Ryan, who I met at their table, assured me that I wasn't being an obnoxious SmartAlice like I had remembered.
In fact, they thought it was so amusing that I left the party early just to stand in line with a bunch of 12 year olds for a book I still haven't gotten around to cracking, that Ryan drew that nifty cartoon of me, the lads from American Greetings, and the dude that was hired to be a Wookiee but rarely left his head on.
I really love this illustration -- it reminds me of an old-skool 1950s editorial comic, or something you'd read in The New Yorker. Plus I actually kinda look hot as a comic! (Thanks Ryan!) You can read Ryan's excellent blog here.
After I left the covetted Lucasfilm party, the gang and I headed to a Borders Books in the middle of a stripmall on the other side of San Diego to wait in line with a bunch of kids and their parents for the next Harry Potter book. I was wearing my "Republicans for Voldemort" shirt that I had previously bought at the Dumbrella booth at Comic-Con. But I was sort of disappointed that no one else dressed up. There was a witch there that I think the book store hired, and one of the store employees was passing out free Harry Potter glasses for folks to wear in line, but nobody else was dressed as their favorite character. No Lucius Malfoy, no Ron Weasley, no Sirius Black, no Hermione Granger, no Cho Chang, no Prof. Snape, no Albus Dumbledore, no Lord Voldemort, nothing.
But we had fun anyway. We were slightly intoxicated which probably helped, and we took way too many pics of us in line being goofballs, confusing the families that were there. But we had fun -- the kind Hagrid would have approved of.
Below are my lovely photos of me drunk in line for a Harry Potter book.
Click on the images to go to my full Flickr photo blog...

July 19, 2005
Comic-Con: Star Wars, Transformers and Glen Danzig?
Every year I attend Comic-Con as a Lucasfilm employee, and every year I'm amazed at the cool stuff I spot walking the floors and hanging out in our Star Wars pavillion area. This year was no exception. Like last year, we owned Comic-Con (sans the usual X-Wing) with not just our licensees out in full force (Gentle Giant, Master Replicas, LEGO, Hasbro, etc.) but there were more than enough fans who stopped by in full costume to show off their Jedi pride.
Even Natalie Portman -- who was there to promote her new film V for Vendetta stopped by the Star Wars booth to say hello to fans and allowed them a rare chance to take their photos with her. Also spotted was Gene Simmons from KISS chatting with a few Stormtroopers, and Misfits Glen Danzig was wandering around the convention floor as well.
I caught up with my friends Martin and Eric from Giant Robot magazine, as well as Lenore comic creator Roman Dirge and his lovely talented lady Kiana. Not to mention the many Star Wars artists I bugged throughout the five days I was there -- like Cat Staggs, Randy Martinez, Terri and Tom Hodges, Cynthia Cummens, Joe Corroney, Sarah Wilkinson, Matt Busch, Chris Trevas and Justin.
I also hung out with super-talented artist/writer Otis Frampton and Andrew Bawidamann (who I'm hoping to get to do Star Wars stuff for us).
At our Gentle Giant/Lucasfilm party, I got to hang with my Lucasfilm pals, and met some new great folks from American Greetings. I think I may have been a bit on the obnoxious smartaleck side when I was chatting with them about Care Bears (one of the creators was actually sitting at the table) and Holly Hobbie. I thought I was being funny, but I tend to make really bad first impressions, so hopefully they'll forgive me for being a dork.
Before I could do any more damage, I was whisked away by Kristen, Mary, Amy, Pabs and the gang to head over to a Borders Books on the other side of town to stand in line for the latest Harry Potter book. I don't remember much of that -- but I do have photographic evidence I was there. So I'll post those blackmail photos soon...
The day after my birthday, since my license had expired, I managed to get carded and NOT let into a bar. Can you believe that? I'm 33 and they wouldn't let me in! Of course, the running joke of the rest of Comic-Con was that people wanted to hit the bars but then they'd look at me and giggle that I was too young to drink. Good times.
All in all it was a blast this year to be at Comic-Con, and I'm pretty sure my Flickr photoblog can prove it.
Check out all the photoevidence of Comic-Con
here on my Flickr PhotoBlog.

July 10, 2005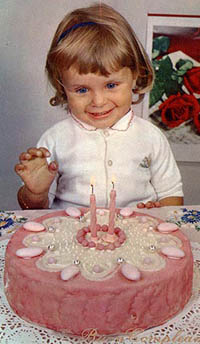 Get Your Party Hats On: It's My Birthday!
As my dad always says, "You've survived another year, kiddo!"
Yup, on July 12 I turn 33. I suppose as I approach middle age I feel more and more like I need to stop screwing around by being lazy and frustrated with life and start making things happen.
Of course, sometimes I actually do great stuff and completely take it for granted. My last birthday I looked back at all the cool things I accomplished in 2004 -- like publishing a book and doing well at Lucasfilm and writing for my favorite magazines like BUST and Organic Gardening. But this year after the whole chaos associated with the launch of Revenge of the Sith at work -- I feel a tad burnt out. I need to get back on track with the personal goals I have be neglecting like being heathier, becoming a lot more social (*cough*DATING*cough*) and of course getting another book published and finishing my screenplay that's been collecting dust.
But I have to say, even though I'm turning the double 3, I'm not as depressed about what I don't have -- house, husband, kids. I'm more excited about what's ahead of me as a minglin' single gal -- traveling, making more pals, publishing more writing, and working at our new digs at the Presidio.
I don't normally have huge birthday shindigs, though I might this year. I go to San Diego for Comic-Con on my actual birthday (so if you see me at Comic-Con, be sure to buy me a drink or a comic!) I always find it kind of surreal to have a birthday during Comic-Con. Being surrounded in not only Star Wars fans, but also every comic book and anime fan on the planet, spins my brain into a comic book overload like no other.
Then again, who am I kidding? I'm as big a comic book geek as anyone there -- even if I don't dress like Princess Leia. Scratch that -- I'm actually dressing up as a Slithering student (thanks to my friend Amy's Wizard Uniforms company!) and standing in line for the next Harry Potter book that comes out that week while I'm there. ;-)
Plus I make more friends there every year -- which is fine by me. I think this time around, since my work at the convention for starwars.com will be a lot less crazed, I might just be able to relax and have some fun. Who knows, maybe Vader will buy me a birthday cocktail when I least expect it!
When I return, I may gather my pals in one room and have us get boozed and caked up...which I'm sure will encourage prime photoblogging material!
At any rate, you feel inclined to buy me a birthday prezzie, here's my Amazon wish list. But I'd be just as happy with an online greeting card. I still get a Klingon birthday greeting every year, and that brings a smile to my face -- even though technically my loyalty lies with different galaxy far, far away.

July 10, 2005
Rockers Who Love Star Wars
After chatting with various bands at the Live 105 BFD show about a month ago (and before that chatting with Billy Martin of Good Charoltte at the TRL Skywalker event), I quickly discovered there were loads of bands raving about Star Wars. So I figured I'd feature them through a series of interviews on starwars.com so fans can discover how many of their favorite bands are fans of Darth Vader too!
Here are the interviews so far:
Up next is Ash, The Muffs, Dressy Bessy -- and hopefully Linkin Park!
Plus after reading Trent Reznor's latest comment on his site about how he dug Episode III -- I may have to bug his people for an interview too....
You can always read the latest band interviews here on the starwars.com site.
So stay tuned and let me know what you think!
(And please be sure to tell me about any of your fave bands that have a Star Wars fan in them so I can track them down for an interview! ;-)

July 9, 2005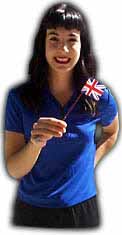 London Bridge Isn't Going to Fall Down
After 10 years of promising my Brit friends that I will be making the trek across the pond, I still haven't done so. I've been too "busy" with work, or life in general. Or I don't like to travel solo. Or I don't have enough money. You name it, I've made excuses.
However after the tragic London bombings, I feel like I should actually go this year. I haven't been back to NYC since 9/11, and I need to do that too. But life goes by way too quickly and I can't keep staying in my isolated San Francisco bubble. I need to get out and see new things before everything and everyone I care about is blown to smithereens.
Speaking of terrorism... plenty of people have stated their two cents, and for once I'm speechless. I don't get it. I understand why people like that hate the USA. We represent everything they're against. We're brash and unapologetic. We drink beer, burp and say stupid shit. But don't freakin' bomb us. Think of us as that drunk mulleted uncle who means well but who still can't help but say sexist jokes and eat with his mouth open at fancy bistros. Yeah, our president is a joke (it's my opinion so don't bother sending me hate mail), but we don't deserve to have our buildings smashed and our people killed.
And for the record, I want this war to end now. We shouldn't be over there. This isn't a winnable war, and it never will be. We need to think of other ways to see eye to eye. (Wasn't it Mahatma Gandhi who said "An eye for an eye makes you blind?")
But when the London bombs hit I was dumbstruck. The USA being a huge target is always on our minds, but when our friends in the UK get hit, it's completely unexpected. I never thought of them as a target by the same terrorist. Sure, they get a bomb from the IRA now and then, but the same people that hate us, hate them too. I guess I thought they were immune in a way. We're the ones bombing Iraq. We're the ones with most of the power and limelight. We're the ones with the uber-corrupt big businesses and the lazy media, not them. I always thought of them as the successful cousin who graduated with a PhD, went on to get a fancy car and marry into a good family.
But they're also that same cousin who can kick ass in a pub brawl, drink anyone under the table, and can deal with the worst circumstances with a stable head. So yeah, I was shocked. But I know for a fact that they're not gonna put up with that crap either. Getting us mad is bad, but pissing off the gigantic rugby team who can disembowl you is downright stupid.
My heart goes out to London. We know how they feel, and it's horrible. And as soon as I get enough airfare money, I'm headed to Heathrow.

July 6, 2005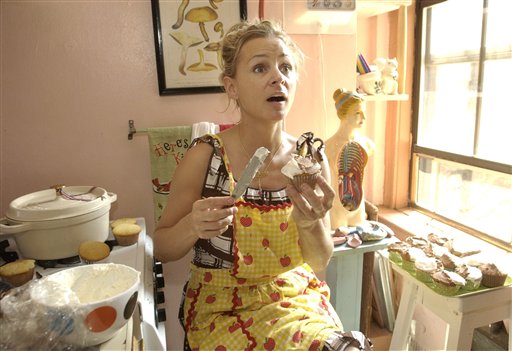 Ask Amy Sedaris for Family and Hygiene Advice!
Letters needed for Amy's next Believer column
From the editors of The Believer magazine:
"Hello, friends of SEDARATIVES: Another hearty thanks for helping us spread the word about Amy's column. The letters keep on rolling in, and we know that you've played a major part in the column's success.
Would you mind passing along another annoucement for us? We have plenty of letters for her Crafting column for September, so no further questions are needed. We're now looking for letters concerning Family (for the October issue) and Personal Hygiene (for the November issue).
As usual, letters can be sent by email to sedaratives@believermag.com, or by snail mail to SEDARATIVES, 826 Valencia, San Francisco, CA 94110.
Amy would like to express her gratitude with a big ol' sloppy kiss. We would do the same, but we know that'd just be weird. If it's okay with you, we'll just stick with a polite 'thank you.'"
The Editors
Believer Magazine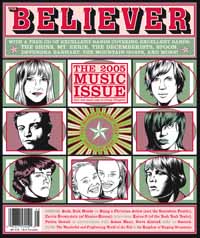 Oh, and if you pick up the June/July 2005 issue of The Believer you'll see my dating question to her published! Yipee!