May 13, 2005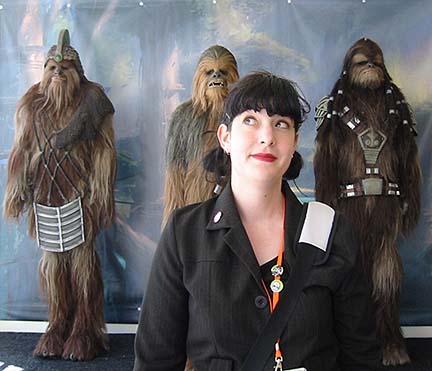 Revenge of the Sith Lucasfilm Screening & Party
So all the hard work I've put into writing about and promoting the upcoming Star Wars film Revenge of the Sith all comes down to this last week. This is it. The very last week to run around like a crazed Wookiee promoting the film, getting everyone and their dog to see the film over and over again. And of course, to take not only pride in what I've accomplished so far, but rake in the perks.
One of those perks was the employee screening at the digital theater in the Meteron on Saturday, May 7. I woke up early (7:30am) and headed down to stand in line with my ILM, Lucasfilm and LucasArts brethren. We wanted to get there early to insure we'd get tickets in the only digital theater (theater #15). Of course, once we were let in around 9am, I was glad we got there when we did. Most of the theater sectioned off for VIPs -- that would be George Lucas and Rick McCallum and their families. This is the second time I've seen the film with George... I mean with George in the audience. I didn't share a bucket a popcorn with the man, but it was still nice to know the guy who created all this was sitting in the same room with me. Though I do wonder what it must be like to sit and watch your own film. I'd be thinking of all the things I missed, or wanted to fix or film differently. But I suppose that's what the Special Editions are for.
After the film was over, and we all gave the maker himself a standing ovation, George gave a short but sweet speech thanking us all for our hard work and that it was a pleasure working with us all. Which I have to admit is damn nice of him. Even in the smallest of dotcom companies I was in, I don't think I had ever been thanked by the Grande Queso like that. And even though George probably just knows me as that girl with the weird hair who said he had nice shoes, I'd like to think he's glad I'm on the payroll.
Once we all filtered out of the theater, we headed to our new offices at the swanky Presidio. Now keep in mind, I've only seen concept drawings and virtual animatics tours of this place -- our new home for Lucasfilm come September. But when I arrived and really took a good look at the campus, I have to say I was blown away by how beautiful it is. Palace of Fine Arts and the Golden Gate Bridge in the background, new brick buildings in the foreground, and even a pond with ducks (I bet you didn't know that ducks are the only real Earth animal in the Star Wars films)! And nothing but green, green grass and paths to stroll. I may have to request that all my meetings be done on the grass!
When we walked inside the buildings (Robin Williams and his daughter Zelda were right behind me), I wondered around wondering where my desk would end up and what views I'd have. And then I found the open bar. My coworkers and I ate food, drank wine, chatted about the film and had a nice revelation that this was the first time in probably 10 months that any of us got to stop for a minute and relax.
Throughout the building there were also exhibits put up just for the party of props, costumes, and set pieces from Revenge of the Sith. The highlights for me were the Wookiee costumes and weapons, various lightsabers, the R2 and C-3PO props, the Yoda prop, Vader's suit and of course the new Vader helmet. One of the biggest hits of the party seemed to be the set prop of Padme's apartment. It resembles the coolest futuristic dollhouse I'd ever seen -- and the four 7-year-old girls standing with me in awe agreed. ;-)
After I had my fill of food, drinks and taking silly photos of myself infront of the exhibit pieces, I went outside, took my shoes off and lay back in the green grass. As I looked up at the view of the buildings surrounding me, and employees discussing their favorite parts of Revenge of the Sith, I smiled. Never in a million years did I ever think I'd be part of this creative galaxy of writers, artists, modelmakers, game developers, engineers, designers, publicists, promotions specialists, fan event planners, or driod wranglers. But I feel like this is where I belong and I'll be holding on for the ride ahead no matter which galaxy it takes me.
Thanks George.
Be My Virtual Date at the Party:
(click for bigger images)

May 11, 2005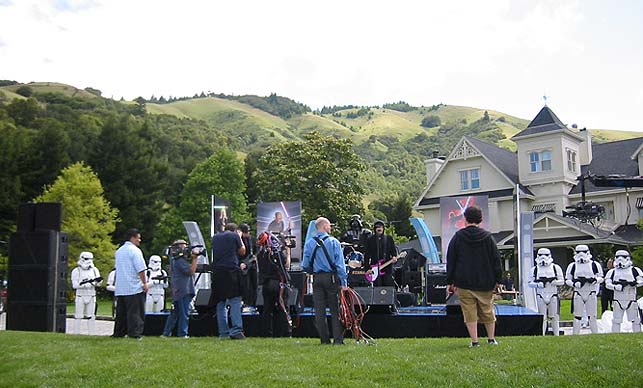 I Want My MTV at Skywalker Ranch
It's not every day that the crew for MTV's "Total Request Live" invades your workplace. That's exactly what happened last week at Skywalker Ranch. To promote the upcoming release of Revenge of the Sith, MTV VJs, celebs and Good Charlotte flew out to Marin to do a special Star Wars edition of TRL. As usual, I was there to report about the event for starwars.com. I had spent the day before that at our press junket joining folks from various newspapers and magazines as they interviewed George Lucas, Hayden Christensen, Ian McDiarmid, Rob Coleman, Roger Guyett, and Rick McCallum about the film. So I was more than prepared to interview the various celebrities and Good Charlotte about their love for Star Wars.
For the first part of the morning, I watched as Good Charlotte's crew attempted to do a sound check in vain thanks to the random rain showers. But before we knew it, they were good to play, the TRL audience was brought in, and the VJ started the show. It was interesting to be part of the crowd considering that we were told to stay back if we were 30 or older. (Yeah, I'm 32 -- so what?!) But I think I ended up in the shot anyway.
I made a point to pass out the stickers and pinbacks we made special for our teen campaign and they went like hotcakes. I knew those would be popular -- I just wish we had made more!
After Good Charlotte played in front of the Main House, the crowd walked slowly to the Stagg Theater to see a special screening of Revenge of the Sith. I had seen it for the first time the night before with the international press junket. Aside from some Spanish journalist kicking the back of my chair for the duration of the film, I was completely mesmerized. It's dark, sad and quite good. I don't want to give too much away, but I would suggest that all you Original Trilogy fans out there who think they're too jaded for prequels -- YOU NEED TO GO SEE THIS FILM -- and if at all possible in a DIGITAL THEATER. (Okay I'm done yelling.)
This second time around I watched for the background characters and "Easter Egg" type moments I had missed the first time around -- George and his kids' cameos, my boss Pabs' cameo, ILM crew cameos, original trilogy actor cameos, the Millenium Falcon landing, and so much more. It was even better the second time around.
After the screening, and a standing ovation for George who had watched the film with us, I headed over to the VIP party to interview celebs for the site and to pass out more stickers and pinbacks. In addition to my Ash pals Mark, Linda and her friend Lisa -- I saw Elijah Wood (Lord of the Rings), Seth Green (Italian Job), Danny Masterson ("That '70s Show"), Topher Grace ("That '70s Show"), Mila Kunis ("That '70s Show"), Josh Schwartz ("The O.C."), Peter Gallagher ("The O.C."), Michael Rosenbaum ("Smallville"), Donald Faison ("Scrubs"), Brendan Fehr (Final Destination), Macaulay Culkin (Saved), Good Charlotte, Death Cab for Cutie and others.
At the VIP party I could overhear various guests raving about the film, and squealing with glee every time they spotted Chewie working the crowd. Heck, that Wookiee makes a mean martini! At the party I managed to chat briefly with Topher, but since it was so busy I didn't get much of a chance to talk with anybody else. So afterwards I headed to our Inn to interview Billy (who was super nice) from Good Charlotte and anyone else who felt chatty.
I have to say the best interview I had was with Michael Rosenbaum from "Smallville." He's such a passionate fan that it was fun listening to his theories about the film and why Star Wars strikes a emotional chord with so many people. (So look for the interview on starwars.com soon!)
All in all it was a great time and I'm glad I got to take part in it. Who knew so many celebs were so Force sensitive! Check out TRL on Friday, May 13 for the Star Wars Special.
Here's the day in images:

May 3, 2005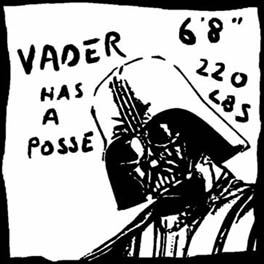 Vader Has a Posse and You're It!
There's something about wearing your own DIY stenciled shirt of Darth Vader that gets you in the mood for just about anything. So I've posted a new section on Grrl.com that has cool retro-looking stickers, avatars, buddy icons, desktop wallpaper, posters and yes -- a t-shirt/street art Vader stencil for you DIYsters.
The designs are by my artist pal Carole Ambauen, and I have to say she's outdone herself.
So please check out the Star Wars Schwag here and feel free to download everything and pass it around like a bad cold!

May 1, 2005

(image from nin official myspace.com)
Nine Inch Nails, David Sedaris and In-N-Out
I'm a people person, just not a crowd person. But sometimes, I have to make the exception, join the huddled unwashed masses and attend a concert. In the last week I've managed to make an all-time personal record of going to two concerts back to back. Now granted, these couldn't be two more opposite crowds -- one listens to nothing but industrial, the other permanently sets the dial to NPR.
First up Nine Inch Nails. Now for anyone who reads my blog or vaguely knows me at all, they get it -- I have a huge crush on Trent Reznor. I've been listening to Nine Inch Nails since I first saw them in '89 waaaaay back in the day when Skinny Puppy were gods, and it was still a rarity to find another "Death Rocker" aka Goth kid in your dorm. Nowadays, thanks to Hot Topic and iTunes, anyone can grab the goth/industrial/punk culture and go. But that's another old lady rant.
I eagerly bought overpriced Ticketmaster tickets to the first Nine Inch Nails show at the Warfield one early Saturday morning online. It sold out in mere minutes. And I was all giddy for the first time in a long time. I was going to see Nine Inch Nails in a decent venue and I wouldn't have to camp out or see them play a huge arena. Of course, once I got there I soon realized that I may have been jumping the happiness gun. Before I begin to whine, let me first say I'm not a snob. If you look like Tom Cruise and listen to NIN, fine, no biggie. If you are an Avril fan and Trent is your hero -- sure, okay, fine. But if you're a hippie and you have Muppet hair and you like to dance like Phish is permanently playing in your head, don't stand in front of me at a Nine Inch Nails concert!
Not only was a hippie dancing right in front of me, but in the nosebleed seats in the balcony where I was seated, I was also near every kind of Nine Inch Nails fan that I never thought should exist -- dancing hippies, bored soccer moms, drunk frat boys, Morrisey-lookalikes, screaming sorority girls and believe it or not an old man wearing a cowboy hat. WHAT IN THE HELL?
For a minute, I thought maybe it was a prank. Like I was on some annoying MTV show where they mess with innocent people's heads. But no, this was all too real. And it made me wonder what the band must think. I mean money is money, but I know that if that's the crowd I was attracting with my music, I must be doing something very wrong.
As I listened to Trent sing all his greatest hits with the strobelight flashing into my eyes from the stage, I craned my neck over the side of the balcony to see if the crowd was any better in general admission. It was a different crowd alright -- a sea of writhing blackness of sweaty tour t-shirts, leather wrist bands, goth girls trying not to let their mascara smear and lots of flailing fists. I caught the eye of many smooshed people looking up at me probably wondering if my seats were any better.
Trent played "Hurt" at the piano, but instead of being able to let myself get caught up in the dramatic moodiness of the melody, all I could hear were the wasted frat boys behind me yelling "play that animal fuck song!" over and over. I wondered why the same type of boys who used to push me into my locker for listening to this stuff, now love it? Or was it just that "animal fuck song" they adored oh so much? Weird thing was, Trent only played one song off the new record -- "Hand That Feeds" -- the rest were best of Downward Spiral, some Fragile and a couple from Pretty Hate Machine. No complaining from me since I haven't heard a lot of what he played live before, but it was odd he didn't bother promoting With Teeth which I figured was the whole point of this tour. Meh.
The next night after work, I went with my friend Mary to Santa Rosa to see my favorite author -- David Sedaris -- speak. This was the flipside of the crowd I saw at NIN the night before -- with the exception of hippies of course -- only at least for this no one was dancing. When we parked the car in the parking lot, I noticed something that can only happen in California -- a Vegan tailgate party. heh.
For two hours I did nothing but laugh aloud to all of Sedaris' stories as he read about live in Paris, eavesdropping on tourists, dealing with weird family members, his adoration for In-N-Out Burger and more. If you haven't read any of his stuff, you should. His writing alone is what's kept me continuing my dream of becoming a better writer. His stories always make me laugh and I can't say enough great things about him.
So of course, I waited afterwards to get him to sign his book Holidays on Ice. I had already decided that would ask him his thoughts about his sister (another hero of mine Amy Sedaris) and her imaginary boyfriend. After waiting another hour in line, I finally was face to face with Sedaris. I have few heroes so when I meet them I try not to make too much of an ass of myself. I asked about the imaginary boyfriend and he seemed bored with the question -- dang. Maybe he was just tired, he had been there awhile. He basically said something I figured he would -- and it sounded like an answer he gave way too many times to suit the lame curiosity of his fans -- "he's the perfect boyfriend because he's never in the way and lets her have her space... thanks for coming out to see me...next." Damn. I should have asked him for dating advice. Or if he ever ate a 10x10 at In-N-Out. Or if he thinks it's bizarre that I collect jackalope taxidermy. Anything but what I asked.
After Mary got her audio book signed "Never blow a horse in your bedroom" we headed out for food. It was about 11pm so not much was open -- we headed to In-N-Out for a quick bite. As I devoured my double cheeseburger and fries we chatted about the show and what we did at Celebration III in Indy the weekend before; and as I glanced over to look at the wall clock, who did I see ordering a cheeseburger? David Sedaris. He looked over at us and we said, "You weren't kidding about liking In-N-Out, were you?" and he smiled. Perfect night. Now if Trent ate In-N-Out I'd be set.