Fri., Nov. 29, 2002
Washed up celeb on the flying trapeeze
So with a tummy full of turkey and pie, I spent most of Thanksgiving day watching Cirque du Soleil performances on the Bravo channel.
As I watched wide-eyed at these amazing dancers, acrobats and performers, I kept wondering to myself, "but where's the kitschiness of it all?" As much as the surreal antics of Cirque earn my respect and awe, nothing will capture my heart like Circus of the Stars.
For those of you too young to remember this debacle, it was when CBS rounded up its most popular stars at the time -- Brooke Shields, Tom Wopat (Dukes of Hazzard), Nell Carter (Gimme a Break), Lynda Carter (Wonder Woman), Barbara Eden, etc. and had them perform in a circus on TV once a year. Nell Carter had trained dogs. Carol Channing had a monkey act. Brooke Shields walked across broken glass. Linda Carter was the high wire act. And so on.
I know to most people this sounds like crappy TV programming, but I was always on the edge of my seat wondering if Scott Baio would fall to his death or if Leif Garrett would be mauled by hungry lions. It was all hilarious and horrible at the same time.
I guess I long for a time when we can watch the likes of Martin Sheen, Sarah Michelle Gellar, Britney Spears and Jerry Orbach dress up in sequined costumes and be chased by lions and annoying clowns.
I'd give anything to see one of the mobsters from The Sopranos on the high wire.
More Fun:
VIDEO CLIP: Kari Michaelsen (Gimme a Break) on the highwire on Circus of the Stars (1983)
Thoughts about Carol Channing and her trained monkeys act from Jump The Shark.

Sat., Nov. 23, 2002
I am SUCH a girl
I'm not a big video game addict by any stretch of the imagination, but when my housemate Steve started to play the game Animal Crossing I couldn't help but oooh and awwww at all the cute little animal characters. The main point of this game is that all the little animals are lazy except for you and so you cash in by doing little jobs for them and running their errands. You also make money by digging up robots, money bags, fossils and various items. Or you can walk around and shake trees for things to sell. Or spend your days catching bugs.
But that's not all. You have to write letters on various kinds of stationary and change the theme song once in awhile to make all those lazy creatures happy. Plus it's up to you to decorate your house in a Feng Shui manner (yes that included houseplants) or you run the risk of ruining everyone's mood. Aside from Pikmin, this may be one of the cutest video games I've ever seen.
More Fun:
Nintendo's Animal Crossing page w/ screen shots.

Wed., Nov. 20, 2002
Virtual Lenny
I'm a Law & Order addict through and through. So when I first saw the commercial for the new game, Law & Order: Dead On the Money, I was intrigued.
Would I finally get to live out my fantasy of being Lenny's smart, sassy new partner?
Could I be witty and sultry enough to make it as Jack McCoy's assistant?
This game could be the answer to all my questions. But the more I researched it online and read different reviews of the game, the more I discovered that this computer game could be more of a bummer than a dream come true.
Apparently, most people found the game to be a pain in the butt due to all the technical glitches and predictable plot lines. Hmmmmm. Maybe I'll wait for the Law & Order: Criminal Intent game.
More Fun:
Play the online demo.
Screenshot images of the game.

Sun., Nov. 17, 2002
Spirituality and Science
Do me a favor and read this research paper on The Challenge of Spirituality to Western Science
by Prof. Sarah Horsfall then get back to me.
It reveals some interesting theories about ESP and collective thought.
Here's the passage that got my attention:
Dossey uses the analogy of TV reception and transmission to explain how a nonmaterial mind acts on a physical body. That is, there is a signal from the non-local, universal mind that is picked up by the individual; clarity of the reception depends upon the individual's receiving equipment. When the picture is bad, there are two possible problems - the signal transmission is bad, or the TV set is bad. In Dossey's opinion, most modern theories of the brain resemble the person who believes the TV itself produces the picture. Thus when something goes wrong with the picture, they look only to the TV. Once it is fixed reception is restored, so like the local theories of the brain, their theory appears verified, just as damage to the brain appears to verify the brain as the origin of mind (Dossey 1989:197). For Dossey, the idea of a non-local mind is an even more advanced conception than the popular mind-body approach to medicine; it emphasizes the causal power of consciousness and "does not regard the mind as operating only within the individual human body or even within a single lifetime of a person" (Dossey 1989:265).
An approach similar to Dossey's is the theory of Human Energy Field. According to this theory, every individual has an energy field that surrounds him or her and reflects his or her being. It is intimately related to their health and emotions, but is derived from a larger energy field. "The Human Energy Field is the manifestation of the universal energy that is intimately involved with human life" (Brennan 1988:41).
According to this theory, universal energy is what permeates and connects space and objects, flowing from one object to another. The energy is always associated with some form of consciousness. Sensitivity to the Human Energy Field is called High Sense Perception (HSP), developed by entering into an "expanded state of consciousness," during which time information about an individual is communicated through the energy field. Spiritual healing is manipulation of the Human Energy Field. Brennan (1988:10) concludes that this kind of sensitivity is a "natural evolutionary step for the human race."

Mon., Nov. 11, 2002
Big Fat No Thanks
As some of you know, I had to shut down Grrl Radio because I couldn't afford the new mandate to pay a yearly fee to record companies in order to play the music I wanted on the Internet. Of course, I still plan on putting Grrl Radio back up with bands who are giving me permission to play their music for free (as it should be). So don't worry, I'll be up and running soon with cool Japanese girl punk bands and random musicians you'll want to worship.
In the meantime, read this great open letter to record execs from Rolling Stone magazine that was printed in The New York Times this week.
Thanks for the link, Dennis!

Sun., Nov. 10, 2002
Nightmares suck
I've been having a lot of scary nightmares lately. I figure it has something to do with what I eat or drink before bed. I better start sipping Sleepytime tea from now on or I'll never get a decent dream again.
Worst dream this week was while I was battling a cold. I dreamt that instead of phlegm, I was coughing up live, transparent scorpion-like creatures. As I coughed them up in the sink, they scurried down the drain. I woke up coughing. NOT COOL.

Sat., Nov. 9, 2002
Teen Angst Shirts!
My pal Gayla not only heads up one of the greatest sites in the world - YouGrowGirl.com, but she also makes spiffy t-shirts, bags, stationary and more for sale in her Superfanastico store!
Her new series of teen angst shirts have me giggling on the floor.

Fri., Nov. 8, 2002
Hola, El Nino
Well, the storm has hit. Nothing but rain and wind til March. The electricity was out all night and today so I missed my Landscape Construction class. Doh.
I'm so behind on my writing that I'm working on freelance assignments and updating my blogs all day. And of course, the neverending rain means the housemates will start playing The Sims again. Then I'll never get anything done.
At least the puppy is snoring next to me and we're all comfy inside. Nothing's better than typing away on a rainy day with a warm puppy at your side and burning wood in the fireplace crackling away.

Thurs., Nov. 7, 2002
I'm a legit journalist after all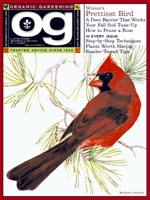 If you want to read my article on the Guerilla Gardening movement (people who secretly plant flowers in crack alleys and other depressing urban areas), then pick up the Nov/Dec 2002 issue of Organic Gardening magazine. (The issue looks like the image above). It's in the Dig In section on page 13 and the article is called "Guerillas in the Mist." I also took the photos. You might recognize one of the photos if you live in Santa Cruz.
Let me know what you think of it. I'm pretty amazed that the magazine staff gave me the go ahead to write the article since it's more of an underground movement than a mainstream thing. But they were all great to work with and loved the idea of people randomly wanting to beautify an urban space that most folks ignore.

Mon., Nov. 4, 2002
My friend, the blushing bride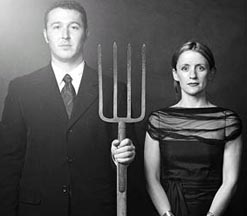 Yesterday, I went to the wedding of my dear friends Teresa and Michael. Not only did I get to see the blushing bride and groom, I also had a chance to hang out with my old pal Brent who I haven't seen in eons. I joked around about avoiding the bouquet throw with Karen. And I shared some ciggies and family tales with artist Catherine Mackey.
Damn that wedding cake was tasty. It's a traditional Italian wedding cake called a sacripantina. And they got it from my favorite bakery in North Beach, Stella Pastry! Yum.
If you want to read Teresa's extremely entertaining (and informative) wedding blog, you can find it here.

Sun., Nov. 3, 2002
Thanks for the book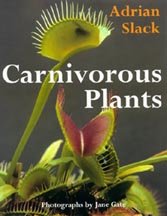 My pal Morgen Sagen sent me the book Carnivorous Plants by Adrian Slack to cheer me up and give me something to read while recovering from my car wreck. Thanks Morgen! You rock.
If any of you are interested in insect-eating plants, you should check this book out. It's got some amazing photos of Venus Flytraps, Sundews, Pitcher Plants and more. My project this winter is to grow some sundews and Venus Flytraps from seed.