Oct. 30, 2006
ILM-Lucasfilm Halloween Party
Cardboard robots, DIY monsters, The 5-0-Worst, Marie Antoinette, little superheroes, Monty Python's Holy Grail Knights and a gigantic Trojan Rabbit danced the night away at the annual ILM-Lucasfilm-LucasArts Halloween Party!
I went as the Bride of Frankenstein, as did . I have to say there were a lot of cool DIY costumes spotted at the Halloween party this year! Plenty of cardboard robots and stormtroopers, but the lifesize (as in GIGANTIC) Trojan Rabbit complete with a gaggle of Monty Python Holy Grail knights won for best costume of the night. Marie Antoinette (all her clothes and wig were handmade) and the gigantic digital camera that took real photos and the Whack-A-Mole with walking mallet also came in as the night's winners.

Check out all the photos here: ILM Halloween Party (2006)

--------------
And my photos were just blogged by Boing-Boing.

Oct. 25, 2006
Meeting Amy Sedaris
Very few celebrities make my knees all wobbly when I meet them face to face. I've interviewed actors, rock stars, and pop culture icons and could keep my cool. No insane giggling with snorting at everything they say. No rapid blink rate. No shaky limbs. No "you're my hero" or "I'm your biggest fan." No perma-grins.
But wouldn't you know as soon as I walked into the book signing for comedian/writer/actress/cupcake queen Amy Sedaris to promote her new cookbook I Like You: Hospitality Under the Influence I turned into a bumbling freak. I thought my teeth were going to crack from my creepy grinning. (see above photo)
She appeared at an out-of-the-way bookshop in Corde Madera, CA (somewhat near San Francisco) and I don't think the place was expecting the crowd of fans that showed up in droves. Since it was during the lunch hour, it was obvious that we were all skipping a meal in hopes of asking her a burning (or itchy) question about her over-the-top role as Jerri Blank in "Strangers With Candy" or about her relationship with her brother the bestselling humorist David Sedaris. Of course, when I got up the nerve to ask my question, I was almost too star-struck to breathe.
AMY: Does anyone else have any more questions?
ME: Yes, uh, hi Amy! You used to do an advice column for The Believer magazine, and um, I wrote in asking for dating advice since I always get stuck with weirdo musicians....
AMY: How did that work out for ya?
ME: Yeah, well, it didn't.
(laughter from audience)
AMY: Did you throw out the magazine?
ME: Actually, I framed it.
[Side note: In her advice she said all my exes told her I had an STD so maybe that's why I'm not doing well. It's not them, it's me.]
(More laughter)
ME: Anyway I was wondering if you ever planned on writing a dating advice book since you have such a great relationship with your imaginary boyfriend Ricky?
AMY: No. I'm horrible at dating. Next question.
After the session, I stood in line. But I was so excited from her answering my lame dating question, and even more thrilled to say hello in person that my knees were literally shaking and my left eye went all twitchy. I must have looked like a crackwhore, but maybe that's endearing, right? As she's signing my book (see photos below), I hand her a blue bunny I made from a pipe cleaner the night before. She loved it and called it Bonnie. Awwww. (You can see her holding up the bunny in the photo above.)
I'm glad Kristen decided to drive me there over the lunch hour and remind me to hand over the bunny since I was pretty out of it from just saying hello. Yes, I'm a dork. She signed my book: "Bonnie, Good times. Good luck with the dating. - Amy Sedaris."
I jotted down from Amy's Q&A session for those of you interested in what else was asked:
ON APPEARING ON MARTHA STEWART:
"Martha is stiffer than she appears to be. I've never really been influenced by her and so I kept turning down offers to be a guest on her show. But eventually I said yes. She had a ham and swiss sandwich waiting for me in my dressing room! She was supposed to be my slave on the show, but she bossed me around. We're just opposites. And she had a panty line!"
Watch her on Martha Stewart's show.
ON APPEARING ON SESAME STREET AS SNOW WHITE:
"It was the first time I ever really memorized a script. They were impressed since most guests just read the cue cards."
Watch it here: Part 1. -- Part 2.
ON RABBIT-PROOFING OTHER PEOPLE'S APARTMENTS:
"I like rabbit-proofing houses. I love to see other people's dwellings! Before I was a member of the rabbit society, I didn't know how to take care of my rabbit. I just did what Petland told me! My rabbit was living under the springs in my bed!"
ON WHY HER BOOK IS SO FULL OF IMAGES:
"The book is perfect for illiterates and children! I don't want to leave anyone out. When I was a kid I would look through craft books and see a photo of an overstuffed chair with some knitting left on the arm and I would freak out thinking 'What happened to the old lady that was sitting there? Is she okay? Why did she suddenly leave her knitting?'"
Check out a sneak peak here.
ON HER FAMILY'S GREEK HERITAGE:
"My father's parents are from Sparta, but my mom wasn't Greek. As kids we always had a choice on Sunday, we could go to the Greek Orthodox church -- which was fun because since it was all in Greek I could make up what he was saying, or we could rake leaves."
ON SELLING CUPCAKES:
"I'm not selling any cupcakes now because I'm on a two-week book tour. I always sell out of them probably because I bring in a suspicious number of them like 7. Sorry, I get high."
ON HER TUMBLING ACT ON "THE COLBERT REPORT":
I lived above a deaf girl in Chicago. She was 5 and I was 30. She had just come home from seeing Cirque du Soleil and described it to me. So the next day I checked out all these books on tumbling and taught myself so I could do something even the deaf can enjoy."
Watch it here.
ON HER GUEST ROLE ON "MY NAME IS EARL":
"I can't believe it's a network show! It was great! It felt like no one was in charge!"
AMY'S TIPS FOR TEENS:
"The Ladies Night chapter in my book on vaginal cleansing is perfect for a 15 year old girl who wants to throw a party."
AMY'S ADVICE FOR A TEEN GIRL ABOUT TO ATTEND COLLEGE:
"Do go. Drop out and have kids. Drink, drink, drink."
OTHER LEARNED AMY FACTS:

She loved breaking the stunt glass on "Strangers with Candy."
Owns 33 wigs.
Her dress designer is Mary Addams -- "She has 9 1/2 fingers!"
Chicken on the Taverns is her favorite recipe in her book.
The book took 1 1/2 years to complete.
Would never move back to Raleigh, N.C. though she misses the accents.
Thinks pantyhose crafts are a blast.
How to make Land O Lakes postcards! Check out the video from her NYC reading here.
Added treat: Amy's Amazon commercial for her book.
[SIDE NOTE: The background in the commercial is actually her living room complete with the fake fireplace built by her designer pal Todd Oldham!]

Oct. 21, 2006
The Jury is Out
This week I served on a jury for the first time, ever. I wasn't too thrilled with the idea. I had to put my life on hold for a week as I sat quietly for hours in a stuffy room listening to testimony from expert witnesses (many of whom were pointless) and the defendants and so forth. But let me back up a tad.
Tuesday morning, I went to San Francisco's Civil Courthouse to sit and wait to be considered for a jury. I tried my best to get out of it with a rather believable hardship excuse, but not convincing enough. I ended up serving on a jury where an elderly man was suing MUNI for injuring his leg. During the trial I tried my best to keep an open mind, which isn't easy after riding the MUNI bus system for 10 years.
In the time I've been using MUNI I've seen drivers wait until people run to the doors, then they close them in their faces and drive off. I've seen drivers almost run down everything from little old ladies crossing the street to a crosswalk full of kids. Buses in San Francisco NEVER show up on time and when they eventually make it to the stop they're overcrowded in one bus, or barely anyone in them with 3 of the same bus line back to back to back. When I finally got a car I felt like my sanity returned. However, for the duration of this trial I rode MUNI Bus #16 B Express to get me back into the mindset of how MUNI operates. Ironically, the second day of the trial, I witnessed two people having the bus doors slam down on them as they exited -- which was just what the trial case was about.
The trial centered around a 74-year-old Chinese man who was exiting the Folsom and 3rd bus to transfer to another bus to get to his regular hang out spot in Chinatown. When he climbed off the bus one fateful Dec. 13 (a Friday no doubt), the doors closed to soon, hit his leg, ruptured a muscle and he was on his back on the ground in agonizing pain as the driver began to drive off. The driver stopped the bus once the passengers were screaming at him, and then an ambulance was called. Four years later, his case finally came to court and the old man sued the city for his medical bills, mental/physical distress and so on for $42,000. That's really not much. Personally, I would have sued MUNI for a hell of a lot more if it had been me.
My fellow jurors and I sat for 4 days listening to the lawyers present their cases. The old man's lawyer was seasoned, professional and sounded like he'd spent the last 25 years in a court room -- he was also a bit on the cocky side. But at least he appeared to know what he was doing.
The City's lawyer defending MUNI was -- it seemed -- fresh out of law school. I got the impression that this was her first case....ever. Her "ums," "uhs" and long pauses as she tried to figure out what to say next didn't bode well for the MUNI. She needlessly repeated over and over and over the same basic info we already knew from previous witnesses and common sense. Such as asking the old man's wife -- "You are married, correct?" after we already sat through an hour of her husband's testimony. And asking the man if he was from China, having the CHINESE interpreter answer yes. Duh. It really was beyond frustrating. I felt like I was back in 8th grade Civics class and I was watching a classmate pretend to be a lawyer. Her words were shaky, her objections barely audible and her witnesses pointless to the case at hand.
I think the saddest part of the whole trial was realizing beyond a doubt that indeed MUNI was at fault, but the old man's lawyer depended more on emotion than on actual facts about HOW the city messed up. We heard nonstop testimony about the man's injuries, about his wife's distress, about how he'll always walk with a cane and never be the same again. But both lawyers didn't bother to ask really crucial questions to give us real facts about what the driver should have done A when instead he did B. Half the time, the lawyers would dismiss witnesses without asking them the questions WE as the jury wanted them to ask. But we can't just raise our hands and ask our own questions. We have to go with what's presented and not what SHOULD have been presented.
So in the end, even though I was in a minority about my decision to be in favor of the old man and not MUNI, I had to turn around my decision based on cold, hard facts. For me, all the old man's lawyer had to ask was ONE SINGLE QUESTION. What happens when you're exiting the bus doors (as in you're already walking through them) and the driver pushes a green button to disable the automatic doors? Do the doors which no longer have power close on you no matter what, or do the bumpers around the doors sense something is stuck in the door and stay open to let the person out? But that question was never asked. Sadly, if it was asked I imagine the man probably would have won his case.
And so I had to go with the presented evidence, and the old man got nothing. MUNI won because of a question that WASN'T asked, and not because the lawyer did a good job, or brought the right witnesses to the box. And that sucked. The City didn't earn that win. Their lawyer was horrible, the case was heartbreaking, and I got the impression that a few of the jurors were focused more on leaving then discussing the case anyway. (The guy sitting next to me was text messaging through most of the trial and kept whining to the judge at the end of every day that he needed to leave early for meetings.)
The whole experience was frustrating, and if anything it proved to me firsthand that our system doesn't really work in favor of the little guy. What would have happened if the lawyers were better or if the majority of the jurors cared about what was happening?
I also blame my addiction to "Law & Order" . I wanted a nice and tidy TV ending. I wanted a surprise witness at the end to clear it all up. I wanted the driver to be tricked into telling the truth. I wanted the lawyers to be well-spoken, entertaining and thought-provoking. I wanted a judge that paid attention (I kept a tally page of all the times the judge yawned -- it filled 1/2 a page in 4 days.) And I wanted justice to be served. But it wasn't. The man never got his medical expenses paid. And considering the City spent over $6,000 alone on just one of their expert witnesses, you'd think they would just settle out of court instead of being so petty. This trial honestly made me despise the MUNI system even more.
On the bright side, I met some really cool people on the jury -- a funny guy who works with troubled teens at his youth center that he and his wife started, a woman who runs a book binding craft organization, and a group of some truly entertaining 20-something women who all had not only a sense of humor but a real sense of compassion (unlike Mr. Text Messenger). Plus I got to hang out downtown after the day ended (which I never do). And even though there were no Mayor Newsom sightings, I did my civic duty, even if justice wasn't served for a citizen who most needed it.

Oct. 7, 2006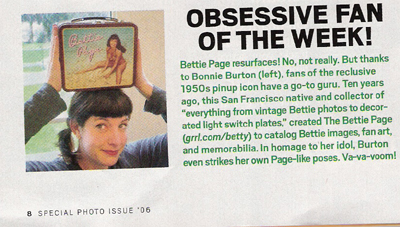 I'm in Entertainment Weekly magazine!
I've been reading Entertainment Weekly magazine religiously for years, often writing Grandpa Simpson-style Letters to the Editor about my favorite celebrities, but this is the first time I've been featured in the magazine...in their Obsessive Fan of the Week section.
I've been a die-hard Bettie Page fan for over 15 years, ever since I picked up the comic book Bettie Page in Jungle Land. I became so enthralled by her life story and unique fashion style that I started The Bettie Page 10 years ago when the Web was young and Bettie was only an underground icon with the rockabilly boys.
I not only posted a collection of art, vintage camera-club snapshots, retro men's magazine covers and Bettie collectibles on the site, but photos of myself trying to look like her as well. I've been collecting everything with Bettie's image on it. You name it, I have it -- lunchboxes, lightswitch plates, comics, magazines, books, postcards, stickers, T-shirts, magnets, playing cards, action figures, statues, record covers, trading cards, beach towels, jewelry and more. Let's just say it's pretty easy to shop for me.
I've been interviewed in the book The Real Bettie Page by Richard Foster, and was one of the last people to interview her friend and pin-up photographer Paula Klaw in an article I wrote called "I Was a Teenage Betty."
I admire Bettie Page because she's truly an original. She could portray a cute, innocent girl next door in one photo or the sexy bad girl in leather in the next. She made you believe that being a pin-up model wasn't trashy, but fun. Bettie inspired legions of girls (me included) to copy her classic look, and she's always been a bit of a mystery. While the boys may idolize Boba Fett, I'm all about Bettie Page.


So please go to the newsstand and check out The Photo Issue of Entertainment Weekly (Oct. 13, 2006). And turn to page 8, to see yours truly.