Oct. 31, 2004
The Annual ILM Halloween Party
I came, I saw, I almost gotten eaten by a giant T-Rex. The Annual Halloween ILM/Lucasfilm Bash was a huge hit. My co-workers dressed up like nuns, houses, fairies, animals, doctors, drag queens, movie moments (including Hitchcock's The Birds and Psycho costumes) and of course Star Wars characters. I dressed up along with my coworker gal pals as Princess Leia. Punk rock Leia actually -- complete with a homemade punk shirt mimicking the Sex Pistols "God Save the Queen" record cover but swapped out Queen Elizabeth with Queen Amidala. Clever eh?
One of the best moments of the night was when I was almost devoured by the gigantic T-Rex costume. Yup, that's gonna make a splendid Friendster pic. George Lucas showed up at the tail end to see the costume awards and hang with his kids. I think he too was amazed at that T-Rex. It's no surprise that it won the grand prize home entertainment center. Granted, when your job at ILM revolves around making huge props it's not that big of a shocker that your costume will blow the rest of us out of the water!
Behold the Halloween costumes: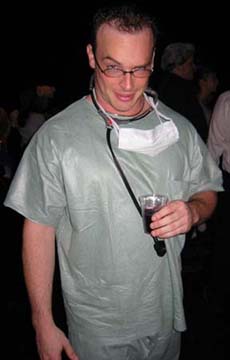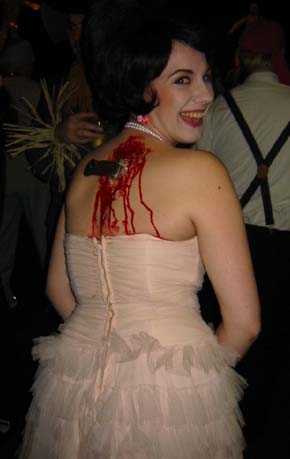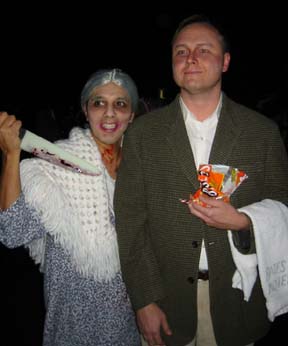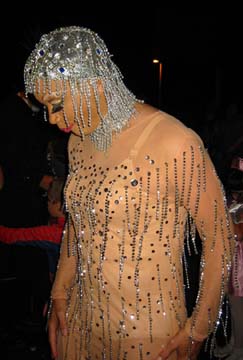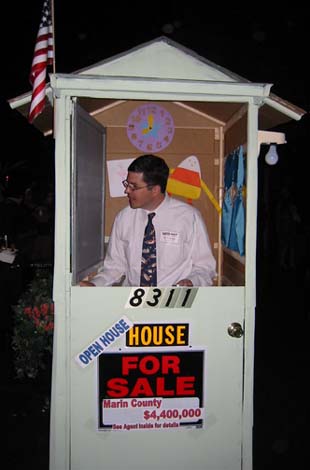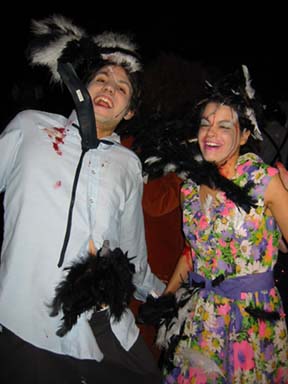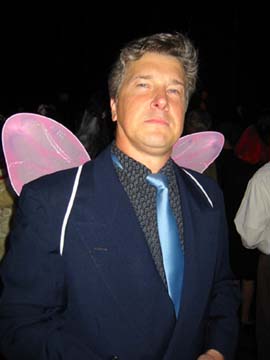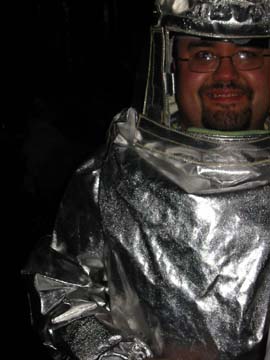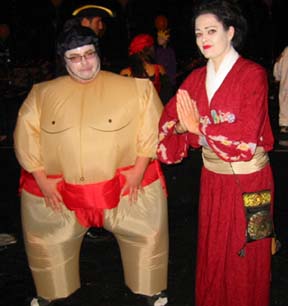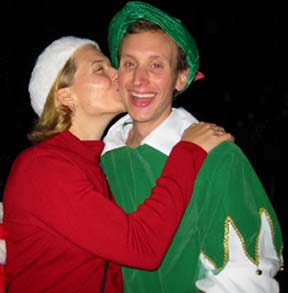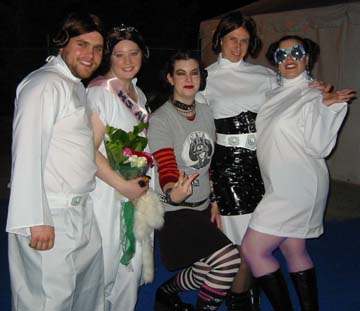 Oct. 20, 2004
The Great Pumpkin
When my pals Kristen and Pablo asked me if I wanted to come over to their place and carve pumpkins, how in the heck could I say no? That's one of my favorite holiday activities! It's not every day you can make the same squishy noises they used in the movie Psycho. So we watched the Treehouse of Horror episodes of "The Simpsons" and proceeded to carve with mad abandon. Kristen made a traditional Jack 'O Lantern as well as a cool ghostly pumpkin that sprayed the walls with apparitions when the candle inside it was lit. Pablo make a spider web pumpkin, and I went for a Martha Stewart design she had in her latest issue of Martha Stewart Living where you make the stem the nose. Clever little jailbird.

Oct. 13, 2004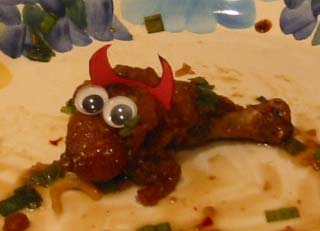 What a Cute Little Chicky
When I'm not handcuffed to my computer or attempting to do something a bit more productive, my creative friends often volunteer me to help with their projects. This week, my buddy Sharon asked me if I'd help her with a storyboarding photo project for one of her art school classes. Little did I know I would be face to face with a possessed chicken wing. The project involved myself and her boyfriend Steve fighting over the last Chinese take-out chicken wing not knowing that it was indeed possessed. I have to admit I had a lot of fun filming while Sophie wished that we'd drop at least one of the wings on the floor for a little doggy snack.