Sun, April 28, 2002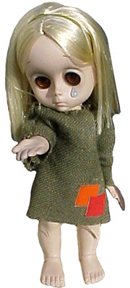 Publish My Book Already:
Rejection letters are never fun to get in the mail. As a writer, you either have to get used to people saying they're not interested in your numerous queries and book proposals, or you need to find another profession where people hug you all day long.
After working on my book proposal for over five months, I sent it to my favorite publisher Chronicle Books. I knew a friend of a friend who agreed to look at my proposal. Unfortunately, they weren't interested after all because my funky craft/home decor book is too similar to a few of the books they already have on the market. Damn!
So now I can either sit in a dark corner chugging martinis and mumbling to myself about how no one will truly appreciate my talent, or I can send the proposal to another publisher without the benefit of saying, "Our mutal pal so-and-so suggested I drop you a line." Or I can skip that scenario and try to woo a stranger into being my book agent.
I have to keep reminding myself that the book Roots by Alex Haley was rejected by publishers 30 times before it was published. I suppose I just need to stay positive and keep trying, right?
Either way, I better make myself comfy in the slush pile.

Wed, April 24, 2002


Want Fries With That?:
When you're trapped on a plane for 5 hours, sometimes you just need a good book to read so you don't go nuts when the person in the seat in front of you decides to recline as far back as possible onto your already-cramped legs. Once I was done memorizing every page of the latest issue of ReadyMade, I started to read Fast Food Nation: The Dark Side of the All-American Meal by Eric Schlosser.
At first I was hesitant in reading this book. I'm a big fan of fast food and I didn't want to hear any true-yet-disgusting stories about Big Macs and Whoppers. (I had already heard the story about formaldehyde, aka a "brine solution," in maraschino cherries while I was on vacation in Hawaii, as I was gulping down a Chi Chi.) But this book was so engrossing and interesting, I forgot about the food and read about the companies themselves.
Did you know that Ray Kroc (McDonalds) and Walt Disney (Disney, duh) knew each other during WWII? Or that they had a long-standing grudge between them? Did you know that Disney hired two ex-Nazis to design rides and host shows for the TommorrowLand futuristic exhibit at Disneyland? I discovered that many of these pioneers in fast food were mostly high school dropouts who had more business savvy than most Harvard business grads of today. It's not easy to go from pushing a hot dog cart to heading a multi-billion dollar corporation. Heck, I could barely handle selling Girl Scout cookies.
Journalist Eric Schlosser did his research. He dug up the histories of everyone behind giants such as KFC, Taco Bell, Carl's Jr., McDonalds, Burger King, Subway, Wendy's and more. Plus the more you read the more you wonder why most of the facts in this book aren't common knowledge. Like the fact that many fast food workers are so frustrated with the job environment (low pay, not much chance of moving up the ladder) that they often rob the place later after work. In 1998, more restaurant workers were murdered on the job in the U.S. than police officers. Leading fast food chains often spend millions for extra security measures and cameras, but perhaps if they treated their workers with more respect (instead of someone they can instantly replace) and gave them a wage you could actually pay rent with, they might not have to fear their own employees. Schlosser talks extensively about how the fast food companies are so rabidly against unions that they often close down an entire store and fire all the employees when they suspect union activity.
Fast Food Nation encompasses so much more than legendary food giants and the teenage employees who are often exploited to save a few dollars. Schlosser shows you the truth behind starting a franchise, dangers on the job (besides being shot by coworkers), the behind-the-scenes info on food flavorings and additives, the global impact of the fast food industry on the environment and politics and even an an epilogue regarding Mad Cow disease.
Before you jump on your right-wing horse and get your panties in a bind about journalists who often write scathing commentary about big business without backing it up, think again. At the end of this book is a hefty chunk of notes listing where Schlosser got all his info so you can do some fact checking on your own.
I'm only halfway through the book, but I highly suggest you read it whether you love to eat fast food or not. It may help you gain a bit of perspective about your consumer choices. I might actually go eat at some mom and pop Mexican food joint instead of Taco Bell. Then again, those supreme chalupas sure do taste yummy. Hmmmmm...
Other reviews of Fast Food Nation
More fun: Pretend you're a fast food employee with The Simulator

April 15-22, 2002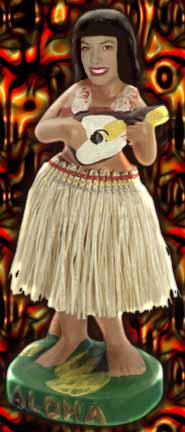 Aloha:
For this week, I'm on vacation in Hawaii. So far I've waded in the ocean twice, turned progessively redder, ate lots of seafood and items containing either coconut or pineapple, bought kitschy knick-knacks that have hula girl images all over them and drank my weight in pina coladas. I'm also on a quest for authentic, vintage Hawaiian shirts. I only own one hand-embroidered number depicting an erupting volcano that I snagged long ago in Denver.
I'll probably buy a ukulele while I'm here -- I feel like it might actually be a requirement to enjoy yourself in Waikiki. I'm keeping an actual journal (not a blog, mind you) of stuff I do while I'm here plus photos, cocktail napkins, candy wrappers, want ads, etc. This place is great, I just wish there were Hawaii Elvis impersonators lurking in the tiki bars too.

Sun., April 14, 2002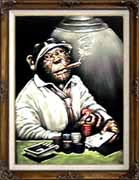 I Collect Junk:
I don't know when my obsession with odd crap began, but over the years I've managed to collect a lot of stuff -- Little Miss No Name Dolls, a velvet painting of Kenny Rogers, retro board games, vintage ouija boards, monster toys from the '70s, Bruce Lee action figures, armless mannequins, Pee-Wee Herman dolls, a Star Wars Christmas album, vintage Home Ec books and so much more it's a tad embarrassing.
So it makes sense that I would be addicted to eBay, right? Even in eBay's early stages I was right there looking for taxidermy chipmunks riding 4-wheelers to amateur paintings of Elvis. I even have an email newsletter, eBay Weirdness Mailing List, that is chock full of stuff I find on a daily basis. You can sign up for the list by plugging your email address into the Subscribe Box at the top of my Weird eBay Finds page.
I guess it's a blog of sorts since I not only link to the stuff I discover, but I also offer my insightful commentary on each item. So far my favorite finds include psychology books illustrated by Ron Embleton, big-eyed statues from Russ and Wallace Berrie, a velvet painting of a smoking monkey playing poker and my Last Supper dinner plates.
Discuss bizarre auction items in my eBay Weirdness Collector Club.

Fri., April 12, 2002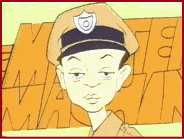 Knott of This World:
Ever since I saw Enid's portrait (well technically it's drawn by cartoonist R. Crumb's daughter Sophie) of Don Knotts in Ghost World, I've been wondering about the forgotten actor. I mean the man is a legend, and I feel as though I need to tell him thanks. What would "Three's Company" be without Mr. Furley? Or how would Sheriff Andy Taylor look smart without the hijinx of his paranoid deputy Barney Fife? And don't even get me started on his fishy role in The Incredible Mr. Limpet! Plus he was Deputy Sheriff of Juneberry on an episode of Scooby-Doo. What can I say? Knotts is a genius! So it is my quest to send him a nice letter saying thanks. Anybody have his address? (I promise not to stalk him.)
More fun: Being Don Knotts


Thurs., April 11, 2002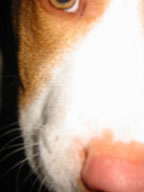 My Dog Has Spots:
So I've been in charge of the dog all week. I'm a good mom and let her play and frolic in the open air and green forest all day long. She runs up to me all happy like a puppy who's been outside all day would, and then guess what I see? Large, red spots on her belly and back legs. What in the...?
Because I've never had a dog before, I'm pretty clueless as to what this is. Could it be a run in with poison oak? (If it is, I'm in for a real treat since she jumped all over me!) Or is it something called hot spots? She has been itching at her fleas a lot, but all dogs tend to do that, right? Ugh.
I've already set up an appointment with the vet to get her post-spayed stitches removed, so maybe they'll know what's wrong with her. She seems fine right now...snoring away on the couch. So why do I feel like a doggie dummy right about now? *sigh*

Wed., April 10, 2002


Books of the Day:
I love to read. And when I'm not gorging myself on zines and comics, I am actually capable of reading a book all the way through! One of my favorites is a book called Life After Death and Other Stories by Susan Compo. It's a good read about zany characters of LA's goth and punk scene, complete with a Sid Vicious wanna be. In fact, there's some great quotes in there about dating egotistical musicians that are right on the mark.


Another great book which inspired me to write poetry is Adventures on the Isle of Adolescence by La Loca. She's sort of a LA punk legend and is known best for writing poems about skater boys, old movie theaters and dysfunctional families. La Loca makes poems accessible and fun for those of us not really into the traditional sense of poetry. Her epic poem, The Mayan, is probably her most recognized work. It's about a girl who sneaks into an old movie theater and makes out with some boy.
For more reading suggestions check out my Book Section. I feature such authors as Kathy Acker, Lisa Carver, Exene Cervenka, Cynthia Heimel, Pagan Kennedy, Carla Sinclair, Darcey Steinke, Cameron Tuttle and more!

Tues., April 9, 2002


Gen and Frank Can Decorate My Pad Any Day:
Let's say you have a really ugly room in your house. I mean REALLY ugly. It has a battered futon in the corner, disgusting pea-green paint on the walls and beige shag carpet with pet stains. Well, you'd be surprised how many other people have crappy rooms begging to be made over. That's where the TV show Trading Spaces comes in handy.
This isn't your normal home improvement show. Two sets of neighbors redecorate a room in each other's houses for two days on a $1,000 budget each with the help of two professional designers and one amazing carpenter. Now if you've ever tried to remove carpet, paint an entire room, build new furniture, sew slip covers and pillows and everything in between, you already know that $1,000 isn't a lot of money and two days is rather optimistic. Nonetheless, it makes for an interesting show thanks to the time crunch and the design ideas.
Based on a British show called Changing Rooms, this US version is a bit shall I say -- sassier? The host who keeps them on budget and on time, Paige Davis is perpetually perky. Designer Douglas Wilson usually does his rooms in a contemporary (and somewhat crome-crazy) style, which makes the usual dullsville neighbors freak out. Designer Hilda Santo-Tomas also transforms suburban rooms into more modern dwellings, but her final rooms have driven a few unsuspecting homeowners to cry. She once made a "orthagonal" grid room that made me think of the movie "Tron." Designer Laurie Hickson-Smith reminds me of the lost cast member on "Designing Women." And designer Vern Yip is the only one my boyfriend says would be allowed to decorate a room in his house. Vern is modern, but he won't paint your fireplace purple or your bedroom black. Carpenter Amy Wynn Pastor makes me wish I had paid attention in shop class, and the other carpenter, Ty Pennington, is a bit slapstick and cute in that scruffy-frat-boy-wearing-a-tool-belt kind of way.
However my favorite designers have to be Genevieve Gorder and Frank Bielec. Genevieve used to design hip rooms for MTV, is mostly seen barefoot while working and often has some of the more unusual ideas closer to what I would do. She once transformed an oh-hum teenager's room into a Moroccan bedroom!
Frank also has this great sense of creativity. Most teams seem pretty thrilled to get Frank as a designer because his ideas usually involve plenty of crafts, handpainted artistic projects and whimsical rooms. On the show, he's made a tiki bar, a teepee living room, a puppet playroom, a mermaid living room and a Southwest kitchen with a serape painted on the ceiling. Of course anyone who says, "Throw me on the ground and make me write a bad check" is okay in my book.
More fun: Which Trading Spaces Cast Member Are You? Quiz

Mon., April 8, 2002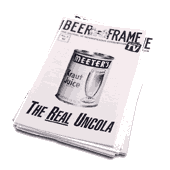 I'm a Zine Addict:
Magazines like The New Yorker, Utne Reader and Wired are all fine and dandy, but I prefer to feed my brain with obscure and unusual zines.
I probably started my quest for zines with random content when I discovered Factsheet Five long , long ago. From its long list of reviews I then searched for every copy I could find of bOING! bOING!, Temp Slave, Thrift Score and Crap Hound. I did my part to support indie publishing by subscribing to other alternative magazines such as Bust, Giant Robot and Juxtapoz.
Now I find that I go straight to the zine section of any bookstore or newsstand I visit. I ignore the glossy, successful magazines for cheap-looking, Xeroxed labors of love. For example, Beer Frame editor Paul Lukas writes about everything from green ketchup marketing gimmicks to toothpick dispensers. To me, that's much more compelling than reading about the latest trends in any of those overpriced design magazines.
Does that make me a zine snob? Probably. But I know I prefer to read a zine made by someone truly passionate about his or her writing, than a publication dead-bent on selling me stuff I don't need. As silly as it may sound, I get a kick out of reading zines all about UFOs, conspiracy theories, breakfast cereal mascots, flea market treasures, robot-making tips and other oddball themes. I'd rather read Crimewave USA than Newsweek any day.

Sun., April 7, 2002
What Did He Say?:
Eavesdropping is really an art form. You have to pretend you're not listening to coversations, or else run the risk of getting caught and looking like a chump. In Passing does all the hard work for you. Read this collection of overheard conversation snippets broken down into categories such as funny, ironic, bizarre and tragic. Best quote so far is, "Harry Potter, Pottery Barn, what's the difference?

Lab Rats R Us:
So you were so desperate to make a little dough that you let some scientist run tests on you, eh? At Guinea Pig Zero you can find others who decided to be a human guinea pig for hospitals and research centers all to make a little extra cash. Read some of the essays, poetry and articles about your fellow guinea pigs. Maybe next time you'll pay closer attention to movies like "Firestarter" before you sign on the dotted line.

Sat., April 6, 2002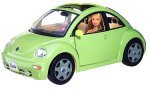 Nice Wheels:
After not having access to a car for all of my twenties (and not driving for over 10 years), I have to admit having one now is handy. I can drive from Santa Cruz to San Francisco and back without a hitch. Mind you, I'm not keen on the idea of doing a daily commute anytime soon. It's fun to zip around in my VW beetle, but there's so many of the same ones on the road. In fact, just the other day I was actually in what seemed to be a parade of new beetles on the highway.
I'm pretty eager to trick it out with wood panels like a Woodie, or may even figure out a way for it to run on bacon grease instead of gasoline.
I'd love to glue a trillion Barbie doll heads or paint a mural of the Trix rabbit on the hood like a real art car, but then again if I don't get some more freelance writing gigs, I may have to sell it again. I even have an urge to plant a quaint garden in back too. Perhaps I'll drive down to Mexico and get a blue glitter paintjob so it looks like a giant bowling bowl.

Fri., April 5, 2002
Enter Sandman:
My roommate in college, Kim McCleskey, was one of those great friends who let me in on the secret, cool world of alternative comics and graphic novels. She introduced me to The Watchmen, Tank Girl, HATE and of course the epic tale of them all - Sandman.
Before any of you cerebral nightmares out there snicker about me loving comics, let me say this. Sandman is a series that is not only visually stimulating, but made me fall in love with myth, folklore and history all over again. Neil Gaiman is a genius.
Because of Gaiman's captivating characters, interwoven plotlines and extremely detailed research, I found myself staying up all night devouring comic after comic. I had dreams about Sandman (not surprising). I often wondered what would become of Sandman's family (known as The Endless), his friends and his creatures. When Gaiman ended the series I was disappointed to say the least. I wanted to believe that on some level the story of the Sandman was real. That should say something about Gaiman's storytelling abilities.
So imagine my surprise when I came across Neil Gaiman's Blog! It's not quite as mystical as the Sandman plots, but it is fun to read. Neil talks about other writers, his daughter wanting to go to Vassar, meeting a soon-to-be reader in a bookstore and more. He also answers questions from fans about writers block, getting published for the first time, starting out as a comic book artist and the truth about meade in his informative FAQs.

Thurs., April 4, 2002
Addicted to Mail
Ever since I was a kid I have been addicted to getting mail. I blame it all on the book High Weirdness by Mail by Rev. Ivan Stang -- the Subgenius fellow. I remember when I first got that book, all I wanted to do was write a letter to every single address and ask for the free stuff. I didn't care what it was. Sometimes I'd end up with bizarre Christian comics or Coca-Cola stickers in all different languages. I was in postal heaven.
Then in high school I started decorating envelopes and postcards with rubberstamps and sent them off to folks who did the same stuff I did. I didn't realize I was doing mail art, I just wanted loads of envelopes waiting for me in the mailbox when I got home from school.
In college, I wrote for zines like Iron Feather Journal, Slack and other obscure titles. Eventually I began my own zine called Grrl and traded it for other zines and self-published comic books. I realized that if you look hard enough, you can find your own high weirdness by mail anywhere -- from the classifieds of Maximumrockandroll to bulletin boards in rural libraries.
My latest mail-obsessions are with Nervousness.org and 1000 Journals Project. Both sites remind folks that sending mail art through the old-fashioned postal system is still a fun and interesting way to express yourself.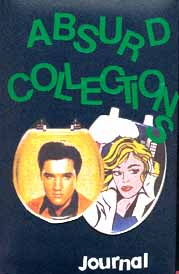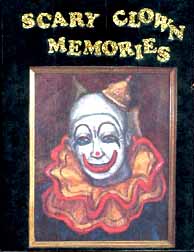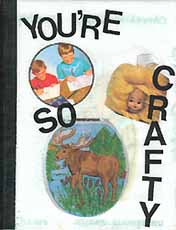 At Nervousness.org, it's extremely easy to get started. You can sign up to receive journals, minibooks, altered books, craft projects and more. Or create your own project and watch people sign up to participate in a flash. Some projects I've signed up for in the past included a John Waters Tribute book, a hairstyles zine, a 3 am journal and a condiments tribute book! But I actually have more fun creating the projects and then seeing what people add to them. My favorite LMAOs (land mail art objects) include a scary clown memories journal, white trash cookbook, guerilla gardening project, roadside attractions book and the absurd collections journal.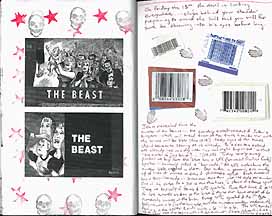 If you like to write and sketch in random journals and then abandon them for the next stranger to pick up, you'll dig the 1000 Journals Project. Sign up to receive a journal, or just browse through the Web site to see where all the journals have been landing. Every time people find or send one of the journals, they log into the Web site and talk about it. Some participants scan images of what they did, while others have interesting stories about how they ended up with a journal in the first place. One woman found a journal in a Hong Kong airport, while a teen living in San Francisco, found it left on a table at McDonalds in the Haight. So far I've only gotten my greedy paws on Journals #646 and #666.

Wed., April 3, 2002
The Scariest Monkey in the World
I'm not sure what's more frightening: a convention with thousands of ventriloquists running around or this evil monkey puppet?
Discuss
Fun with Paxil
Slate.com guinea pig Seth Stevenson tests out term paper services, breath mints, shavers and mattresses so you don't have to. But by far his funniest experiments involve Paxil and sleeping pills. Don't try this at home.

Tues., April 2, 2002
Green Eggs and Spam
A few weeks ago Yahoo added "Marketing Preferences" to your list of user preferences. It asks which offers and emails you wish to recieve, but the default is YES, so your preferences are set so that Yahoo may sell your name and email address to whomever they wish. They also may have your home address and phone number listed for others to see. The only way to stop this is to edit your preferences, but so few people even know about this that no one is doing it, so Yahoo is making money selling your information *with your legal permisson.* Nice, huh?
Do yourself a favor and go to http://subscribe.yahoo.com/showaccount , log in, click on "Account Settings" in the upper right corner. You will need to confirm log-in. Look at your profile: immediately under your email addresses you will see "Edit My Marketing Preferences." You'll notice that the defaults are "Yes" for every newsletter and to allow sale/trade of any address or phone information. Choose "No" on these and you may get rid of some unwanted spam. I also highly suggest taking off your phone and address info.
To find out more about how to elminate even more Spam, visit JunkMail.org.

Mon., April 1, 2002

The puppy woke me up at around 7 am. It felt like the crack of dawn. My hours are usually 11am to 4am. But lately I've been up way too soon for my fragile mind to handle (thanks to a dog who must pee, eat and play early in the morning.) And I've been going to bed around 1 am which doesn't help. *yawn*
Needless to say I'm a tad dazed and confused at the moment.
Today is a big day for me though. I mailed off my book proposal that I've been working on for about five months now to Chronicle Books (my favorite publisher). Since I was laid off from Winamp.com, I've been hoping to accomplish at least one big thing. I've been wanting to write and publish a book since I was eight years old. So I suppose it's about time I do it, right?
It's funny how many friends of mine are writing books at the same time I am. Mark is doing a science experiment book for kids, Carla is writing a how-to braid hair book, Elizabeth is working on an altered book guide, Luke is up to his elbows in recipes for his cookbook and I have a feeling Claire might be illustrating and writing something spectacular for children (and if she's not, she should be!) At least I'm in good company.

Sun., March 31, 2002
blog
how funny is that word?
I remember in 1996, I wrote all about Web diaries for Yahoo Internet Life....now all of a sudden they're called "blogs" and journalists act like this is a new thing. heh. too funny.
I sorta had one already at Winamp.com, but there they call it a .plan.
I want to have this be a cross between a newsy interesting blog like boingboing.net and a bizarre link list like Everlasting Blort or Misterpants.
I have plenty of random stuff to say and write about. Too much, in fact. Don't worry. You'll find out soon enough.