Dec. 31, 2004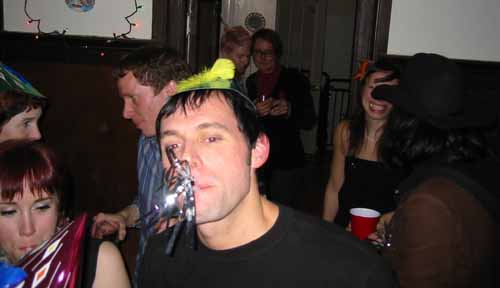 New Year's Eve Karaoke Bash at Tanya's Pad
Mix karaoke, booze, tiaras and plenty of good pals and you have a night like this. Thanks to Tanya, we all had a blast singing (hey, was that Andy dancing to Britney Spears?!). Not only did I dance the night away, but I also managed to have the best New Year's Eve I ever had. Ever!
Happy 2005 to everyone out there!
Behold the Blackmail Photos Galore:

Dec. 24, 2004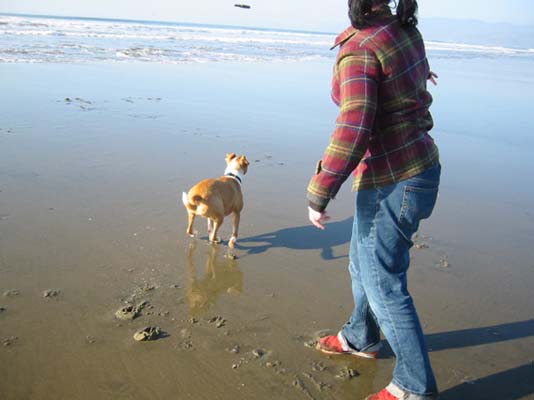 Christmas Eve at the Beach
While some people like to spend their Christmas holidays sitting under the tree with a mug of egg nog next to a roaring fireplace, or at a big family dinner complete with all the fixin's and drama -- I prefer to spend it at the beach with my friends and of course -- the dog.
The day started off with brunch at the Cliff House on the beach. As my pal Sharon and I ate our omlettes we noticed how huge the waves were getting, and she suggested we go back home to get her wetsuit, boogie board and of course Sophie the dog to frolick in the water.
When we got to the beach, Sophie went straight for the water. This never ceases to amaze me. When we first got her, she was afraid to even go near a swimming pool, let alone run head first for the waves. That's all to Steve and Sharon's credit to teaching Sophie to not be afraid of the water, now they just need to train me next.
As I threw any stick I could find for Sophie to fetch, and Sharon was out in the ocean water hopping random waves, I thought about how lucky I am. Growing up in the Midwest, I would never have thought I would be living in a major city like San Francisco, working for a movie company like Lucasfilm and playing with the best dog in the world on the beach on Christmas Eve. But it's true and I couldn't be happier. So happy holidays to everyone out there, whether you're celebrating the festivities with your family in a Norman Rockwell kind of way, or you're hanging with your family of friends at a karaoke bar. Or if you're looking into the eyes of a dog who thinks you're the coolest person on earth. Cheers!
Christmas Eve on the Beach:

Dec. 18, 2004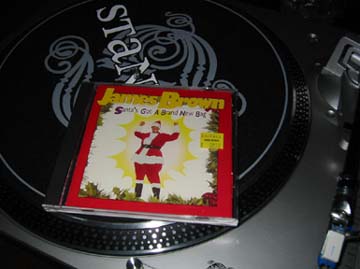 Holiday Party in Oak-Town
I rarely make it over the Bay Bridge to see my friends who dwell in Oakland. Why? Because I'm partly lazy and partly annoyed at how easy it is to get lost. This time around I ventured out (as the designated driver) to Patrick & Eddie's Holiday Shindig with the usual crew. I ate good snacks; saw old pals I hadn't run into lately; listened to the mastery of DJs Nick, Parker, Slater and of course, Matt; and watched my friends misuse the Hulk hands as they got drunker. Good times.
Party Like Santa:

Dec. 17, 2004
Pass the Mic
Let's get one thing straight. I can't sing a single note in the right key. I'm that poor soul who sings in her car, maybe the shower, but never ever in public. I sing so bad that I had a vocal teacher in the 8th grade tell me it might be best if I lip synched the words instead of actually attempting to hit the right note.
So when my Livejournal buddy Sharon asked me to come to her karaoke birthday party, I felt a bit worrisome that these new pals of mine would discover how truly scary my singing voice really was. But since it was for her birthday and I'm willing to make a fool of myself on a daily basis, I figured this wasn't too much of a sacrifice.
I got to Tango Tango minutes before Andy, and managed to hand in my first karaoke card before most of the drunken patrons arrived. I seriously bombed at singing "Wishing (Always Something There to Remind Me)" by Naked Eyes. I know that song by heart, sang it in the shower for years, but still managed to screw up once I heard my untrained voice resonate through the microphone. Ugh.
I sat down and proceeded to drink and try to forget the unfortunately incident. Sharon was having a blast singing to everything from Journey to Bon Jovi. Andy and Conan sat out from participating but were more than happy to suggest songs for myself to butcher, and for others like Tanya, Mike and the rest of the crew to sing in perfect harmony. All in all it was a fun time.

Dec. 15, 2004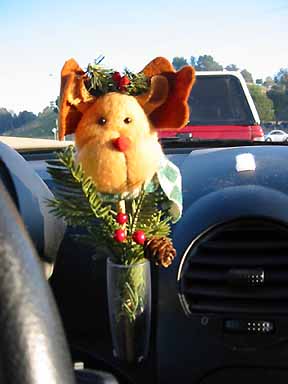 Show that Holiday Spirit -- in the car!
In case any of you drive a VW Beetle like I do, and have the urge to decorate it with a bit of holiday trim, here's a tip. Most craft stores sell fake Xmas tree branches, mini pinecones and even tiny plush reindeer... that fit perfectly in the VW Beetle vases.
Now when deer run in front of my car, I'll have more holiday spirit when I swerve to avoid hitting them! ;-)

Dec. 12, 2004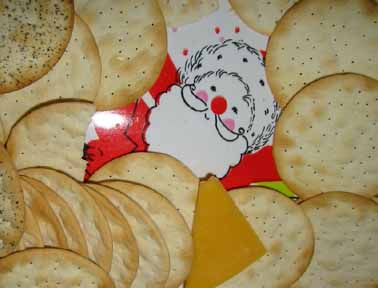 Keep That Party Hat On! (Part 2)
And the next day, I went to my pals' Kristen and Pablo's Housewarming/Holiday Shindig. They had tons of food (I brought over Napoleons that a Russian lady cursed me over since I bought the last three in the bakery), specialty beverages thanks to bartender extordinare Mary Franklin, and lots of friends. Some of the party highlights included watching a little kid and Pablo chat all night about Transformers, drinking Peppermint Schnapps Hot Chocolate, hanging out with my old buddies and new pals like Moe from Livejournal, and letting the kitties fall asleep on my lap. Good times.
Polaroid Moments:

Dec. 11, 2004

Let the Wookiee's Bumper Car Win (Part 1)
Somehow the holidays don't seem complete without a party or two. For the first time in ages, I actually was overbooked for more than 4 parties in one weekend! Granted, I haven't managed to master the fine art of cloning, so I had to choose and ended up with going to the Lucasfilm Holiday Party (duh) and my work pals' Christmas House Warming Shindig. I wanted to go to my friends' 3-way B-day party and my old housemates' party, but thanks to a poor choice in high heels and a late Friday night watching my pal Andy play with his band Lower Forty-Eight at the Hemlock til 4am (with an early morning drunken breakfast in a diner saturated with drag queens)... I was understandably wiped out.
As usual the Lucasfilm Holiday Party was a complete success. I went with my officemate and pal Mary Franklin, and we met our friends Pablo, Kristen and the gang at the hootenanny. The organizers had transformed a mundane warehouse into a Boardwalk atmosphere complete with numerous carny games, cotton candy stands, photo booths, a dance floor, a temporary tattoo parlor, a t-shirt booth, and the most interesting aspect of all -- bumper cars!
Unlike last year, I managed not to say something stupid to George Lucas. And aside from a poor choice in high heels, I had an amazing time.
See for yourself: