Sun., Oct. 27, 2002
Cough, cough.
Why is it that right before Halloween I get struck down with a killer cold? This year is no different. I'm fighting a painful sore throat and an irritating cough. If you have any herbal remedies and tea suggestions, I'm all ears.
sniff. sniff.

Sat., Oct. 26, 2002
A lamp has no feelings
I've always been a closet fan of IKEA, but their new ad compaign may just make me speak up and take pride in my domestic, yet stylish, assimilation.
Go to Unboring.com and click on the TV to watch the best commercial that challenges your reasoning behind holding on to all your old stuff.
Be sure to click on the coffetable book to read the Unboring manifesto!
(thanks for the link, Rob!)

Tues., Oct. 22, 2002
Ouch :(
I got in a car wreck today.
A truck rammed a car into oncoming traffic. I was the oncoming traffic.
My car was totalled, but I'm okay. Just in shock, sore and bruised. Good thing I wore my seat belt.
I'm going to the hospital tomorrow to get checked out in case I have whiplash or something else. I'd never been in a car wreck before. It could have been a lot worse.
Thanks goes out to Jeanne from Jeanne's Gymnastics in Felton for seeing me crying on the bus stop bench surrounded by cop cars, and giving me a hug. She calmed me down and made me feel okay for having a complete crying fit infront of strangers and two mangled cars.
Also I owe a great deal to Sharon's mom Carine who saw me by chance and came to my rescue. Thanks for cheering me up and giving me a ride home. And I thank the local CHP and the parametics for keeping me calm and making sure I was okay. You guys are the best!
I'm gonna go soak in the tub and count my lucky stars. Maybe I do have nine lives after all.

Thurs., Oct. 17, 2002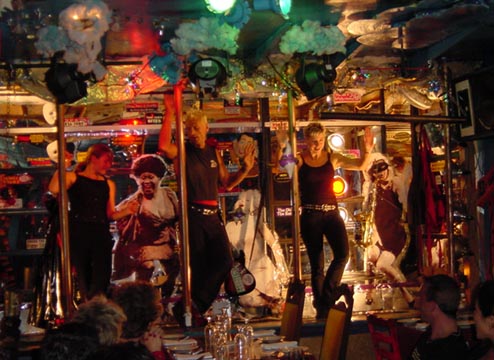 Dancing queens
Wow. I haven't updated this blog in a while. My bad. I've been so knee deep in plants and horticulture homework that I simply seem to be ignoring the online world for a spell. I haven't done a new Phreaky Phriday Phun Linx in so long that I think some of my subscribers are convinced I'm missing.
I need to clone myself. Anyone want to front the cash?
Anyway, the above photo was taken by yours truly during one of my procrastination moments at Ciao Bella. If you're ever in Ben Lomond, CA stop by. They have great Italian dishes and all the waitresses synchronize dance on stage periodically during the night to techno tunes!
My housemate Sharon is the one on the left, then Tad in the middle and 99 on the right.
Back I go to homework. I don't suppose any of you want to do my irrigation systems homework? Darn.
More fun:
The Bella of the Ball -- a review of the food

Sun., Oct. 6, 2002
Nice little bunny
This painting is by the far the scariest thing I've ever seen in a frame. Laurie Hogin's portraits of vicious rabbits, monkeys and other animals will give me nightmare material for weeks.
More fun:
Laurie Hogin: The Hole in the Wood article
Allegory of Brand Loyalties: Nike painting
Recollecting the Way We Were painting

Sat., Oct. 5, 2002
Bagpipes and man-eating plants!
I spent the entire day hanging out with a bunch of men in kilts at the Loch Lomond Highland Games at Ben Lomond. I watched men and women throw logs, drink beer and dance to the sounds of many bagpipes. Good times.
Horticulture classes are going great. I find myself wanting to hang out at the greenhouse on campus even when I don't have to. The succulent collection alone makes me drool. Of course, I'm also learning a ton about salvias and California natives as well.
My new big obsession is all about carnivorous plants. I realize that this is quite the specialized niche. The largest population of people happen to be thousands of nine-year-old boys and then me. I'm reading the book The Savage Garden and trying to figure out how I can buy and propogate these strange plants. Feed me, Seymour!
More fun:
Discuss