Oct. 31, 2005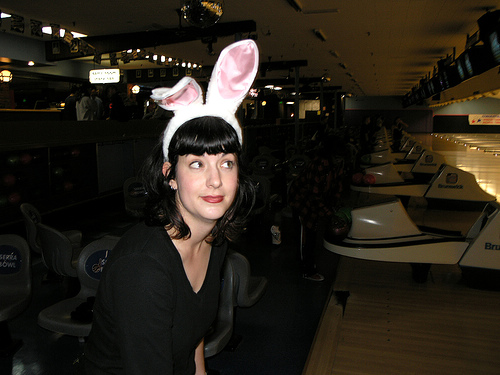 photo taken by Olivia Halloween Bowling Fest
Why go trick or treat when you can bowl as a drunk bunny? To not only celebrate Halloween, but also my one-year anniversary meeting some of the coolest people I've ever known to call friends, I grabbed some bunny ears and headed over to Serra Bowl. Sure the food area is slow as hell, but the pitchers of beer are cheap and the bowling shoes aren't too smelly.
Behold the Costumed Bowling Photos HERE.
And don't miss Olivia's photos of the epic event here.
Highlight Reel:

Oct. 30, 2005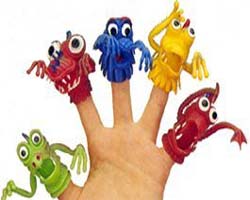 Toy Memories
Here's a great big huge list of the Top 100 Toys from tv.cream.org. Even though my family was on the conservative side with me and my younger brother toys, it seems as though I had plenty from my list.
These are the toys I played with as I kid and the fond/bizarre memories I have for them:
#100: Finger Frights:
I would get these every Halloween and play with them -- giggling for hours. Now I use them to impress boys.
#93: Rubik's Cube:
I had this, tried it, and then cheated by taking all the stickers off during my 6th grade classes.
#86: Sorry:
I rock this game! But it's so passive-aggressive when you think about it. I mean how sorry are you when you're mean to the other players to get ahead?
#81: Merlin:
My first computer like machine. I would play "Moon River" on it to go to sleep. It saved me from going insane on boring cross-Kansas family trips.
#79: Viewmaster:
I still own a ton. My first reel was Cinderella and Pete the Dragon. Now I own scary old puppet Alice in Wonderland reels that talk!
#78: Girl's World:
I cut off all her hair the minute I got her and I don't know why.
#74: Stay Alive!:
Played this nonstop at my babysitter's place.
#71: Connect 4:
Hit my brother over the head with this once when I lost.
#69: Twister:
Best way to touch your 4th grade crush "by accident."
#58: Stretch Armstrong:
My brother and I destroyed him in the first week. The toy was meant to be a dare just from its name.
#56: Shrinky Dinks:
I LOVE THESE. I would make so many of them that our kitchen had that permanent burning plastic smell.
#48: Silly Putty:
My dad introduced me to this as a wee tot. He thought it was the best invention ever. I remember the first comic I stretched -- Snoopy.
#47: Operation:
The best way to shock your brother and not get in trouble or cause death. We used to dare each other to see how long we could be shocked. Good times.
#41: Simon:
I loved playing this with the older kids during Sunday school classes. I thought I was a genius. An ex boyfriend gave me one for Xmas once, so now it collects dust in my cupboard.
#38: Etchasketch:
The ONLY toy my grandparents had that I bothered playing with. My dad could draw the best farm houses with it. I only made lots and lots of squares.
#35: Spirograph:
I STILL love my Super Spirograph and like to make animations with the results as you can see here.
#28: Magic Rocks:
These are still cool to me. In fact, I often buy them to woo boys with.
#23: Speak And Spell:
One of the many educational toys my parents bought me. The voice still haunts me like a Radiohead song.
#8: Sea Monkeys:
Worst letdown, yet I still buy them. One day technology will catch up and they WILL look like monkeys wearing crowns driving minis.

Oct. 29, 2005
No Time For Sleep
Here's a bullet list of my life in the last 2 weeks or so.
* Super duper busy at work: Put up loads of Halloween content on the kids section of starwars.com -- masks, goodie bags, pumpkin carving stencils. Launched our spooky Star Wars Haunted House Sounds podcast. Interviewed Fall Out Boy about Vader. Interviewed some MTV folks about our Foo Fighters/Battlefront II video mod.
* Went to see lundergaard rock out with his Misfits' band Hatebreeders last night at the 12 Galaxies. Found myself in another pitiful mosh pit... er a moshpitiful. Heh. Anyway, the show rocked and it was fun to see Andy in his element in eyeliner. Plus I got to see a ton of folks that I adore but never have a chance to hang with. Some of my pals dressed up for Halloween. Katie dressed in a black wig and hoop earrings and looked a lot like me, which was pretty funny. And Sharon and her boy dressed like Buffy the Vampire Slayer and Angel. I'm not sure what I'll be for Halloween, but then Tanya convinced me to go as the 12 Galaxies guy who holds the sign. So I may have to do that for the Halloween Bowling event.
* A zine that doesn't deserve any more attention suckered me to an interview by claiming to be fans of Grrl.com and Star Wars. They misused my quotes and called me a sellout in a cover story, all because I sent them a Darth Vader t-shirt. I guess there are just as many snakes and Shattered Glass style journalists in the indie press as there are in the mainstream press. Lesson learned.
* Sent my nephews lightsabers for Halloween for their costumes. I think I may have just won Aunt of the Year.
* Bought a bunch of books about ghost hunting in San Francisco just in time for Halloween. I think I may do some investigating myself at our building in the Presidio.
* Since my car is calling it quits, I'm doing online research for either a small Toyota or Honda. I'm not sure what to get yet, but I know I better be as informed as possible before I set foot in a used car lot so I don't get swindled. If you have any used car buying tips, feel free to email them to me.

Oct. 25, 2005
I Bring Stormtroopers Wherever I Go...
Well, that's not TOTALLY true. I mean, they don't go to the laundrette with me, or the grocery store, but with the help of our Fan Relations Director Mary Franklin, we wrangled some up from the local 501st garrison to attend my pal's band Oranger record release party at the Independent last Saturday.
As a way to help promote the release of our DVD -- Revenge of the Sith -- coming out this week, I pitched the idea to our VP of marketing that we send stormtroopers to invade certain bands shows. These bands would have huge Star Wars fans in them, and of course I'd interview them and profile them on starwars.com. Oranger is one of them. We profiled their bassist Matt Harris (who also doubleteams for The Posies) and Mike and the rest of the lads are big fans, so they were all for it.
We also got them toy lightsabers, Leia wigs and of course some swag for the fans like t-shirts, stickers and pins. So they were thrilled. And it was fun to see us doing something different to promote the DVD in addition to what we usually do.
The show itself was a total of 4 bands with Oranger on last. I can't remember what the first band's name was, but they were like a cross between Grandaddy with two drummers and a toy xylophone. I dug it. The band after that was The 88 -- who I have to say rocked. In fact, I would have liked to just see them play another hour and have the next band be skipped completely.
So this is where it gets odd. If you know Oranger, you know the crowd. It's a bit on the Mission/Haight hipster side. You know -- indie kids. Which is fine. But the next band was some side project band from one of the members of the Mother Hips. And the connection to Oranger is supposedly that one of those members is apparently pals with the band. Well, because this Mother Hips band was playing, the crowd quickly became saturated with Marina rich hippie types. They aren't dirty Haight hippies, but Marina hippies. Like frat boys who listen to Bob Marley. That kind of hippy. There were uber-skinny bleach blonde tan girls in half shirts dancing without rhythm to music that sounded like boring Dave Mathews songs. ick. Mary and I kept looking at each other like, "what in the hell?!?" And the funny part is that one of those girls in the half shirts is in a prominent SF family or something, because she brought her own paparazzi. Someone kept taking pictures of her in the crowd and she kept posing with all her half-shirt plastic surgery gal pals every 5 minutes. Ugh. It's like LA invaded SF.
Aftef the band was done, that part of the crowd left. They were only here to see their dredful hippie band, not the actual band that was having the record release party -- Oranger. A few of the other girls stayed and I think that gave the stormtroopers some eyecandy. Which was nothing but funny to watch.
For the stormtrooper bit, we had them bring the band through the crowd and onstage while the Imperial march was playing...as though they were prisoners of Vader. It was awesome. The crowd was all excited to see Stormies and of course wondering why. As the band went on stage, the Stormies stood in front of the stage for about 4 songs and then wandered into the crowd passing out swag like our distressed clone trooper shirts for the lads and "I Heart Darth Vader" shirts for the ladies. One guy grabbed the I Heart Vader shirt and put it on. It was hilarious. And some of the Marina girls kept posing with the Stormies for photos, which makes me wonder if that will end up on Page Six somewhere. Could you imagine stormtroopers on the uber elite San Francisco social pages? ha!
The show itself was awesome -- the new Oranger songs are pretty dang snazzy. And I think everyone involved had a blast. Hopefully the other bands we have stormies invasions planned for will be just as great. So if you're planning on seeing MXPX, Relient K, Fall Out Boy, My Chemical Romance, The Posies and Anthrax in the next few days, you might spot a Stormtrooper in the crowd.

Oct. 22, 2005
Gogol Bordello: A Hobbit, Mosh Pits and Gypsy Punk
CONCERT REVIEW: 10/20: Gogol Bordello @ Slims : At the urging of simulacrum I went to one of the weirdest punk shows I've seen in a long, long time -- Gogol Bordello. I got to Slims super early after work like I always do. Ordered a marge and talked to the bartender awhile. Spotted Elijah Wood, but let him be. I had already met him at the TRL event at Skywalker in May, so I didn't want to bug him. But he was dressed all dapper in an old man straw hat, a very nice dress jacket and such. He looked like he was ready for a date, not a Russian punk show. And his eyes are dreamy. No seriously. They're so blue you can see dolphins swimming in them.
The show itself was friggin AWESOME. I don't normally go to show with mosh pits anymore... I feel too old, too cranky, too fragile for them. But this time I tried it for the heck of it with encouragement from my pals, I stood as close to the front as i could stand getting jostled about by punkers, drunk frat boys, drunker riot grrrls and angry Russian guys. I lasted in that crowd a total of one song and after getting jabbed in the kidneys twice, I started to drift quickly to the left side of the room, where I could watch the rest of the show, and still jump up and down with minimum bruising.....
The show seemed to go on for hours, and I loved it... I feel like I need to train to see their shows though. I was worn out by pogoing and I was drenched in sweat when the show was finally ending at alomst 2am. The violinist was my favorite, but any punk band with an accordian player, and an eccentrically cute lead singer, two amazing backup singers/drummers and of course every song in Russian is dandy by my standards. I couldn't get enough of them.
But after the show I was wiped out. No cool after party for me with a duck lamp and vodka. Nope. I was sweaty, bruised and tired. Happy, but tired.
So if they play in your hood, go. You won't be sorry.

Oct. 17, 2005
Sas and Colin Christian Art Show
Last night I attended the opening of a show featuring altern art darlings -- Sas and Colin Christian at The Shooting Gallery here in San Francisco. I've been a fan of their seedy Keane big-eye-inspired art for awhile so it was amazing to see the work up close and meet the two artists in person.
You can see the photos I took here on my Flickr.com blog: Sas and Colin Christian Art Show
And see if you can find me in the crowd here on their site...