Thurs., Sept. 26, 2002
Too Weirded Out to Party
So this weekend, my housemates are throwing a huge going away party for one of our pals who'll be gone for four months in Brazil. The party is supposed to last 3 days straight (including all night). Security has been hired as well as a driver and a van to bring guests up from the main road. There's gonna be DJs, pool action, endless folks in the hot tubs, and other misc. party things going on. Most people my age would love to be part of something like this. But I'm not. In fact I'm dreading the idea of 60+ strangers streaming through my house for 3 days straight. I'm a great big party pooper. And so I'm fleeing with the dog for the entire time and planning on hiding out at my pal Rob's house far away from the shindig.
I'm not sure why I can't handle the idea of being surrounded by strangers hanging out in my kitchen, knocking into my cherished plants, puking in my bathroom, screwing on my couch, etc. etc. etc. Perhaps I'm just an old cranky lady who doesn't have the urge to party harty anymore. I don't like crowds. I hate worrying about where the dog is, or if someone's downstairs messing with my electric guitar or if someone I don't know is ashing in my brand new succulent garden. I worry non-stop these days and I can't figure it out.
Some of my friends think I might have Anxiety Disorder and I should get on some meds STAT. Other folks think maybe my thyroid is out of whack and I need meds to adjust the chemical levels. And a few other people think I just need counseling to get to the root of the problem. At any rate, I've made an appt. with the doc to find out if I'm going nuts.
I do worry a lot. And I'm bring other people down. I'm probably losing friends over it. And that's no good. I tend to think about worst case scenarios about everything. For example, we got a new stove in the kitchen, but it has a crack in it from some irresposible delivery drivers. We put it in anyway as a placeholder until the replacement arrives. Instead of thinking "oh wow what a cool stovetop" I'm thinking "someone at the party is going to cut themselves on the broken glass, or worse yet turn the broken burner on and start a fire!"
See what I mean?
It doesn't stop there either. If I hear the dog bark, I immediately think she's hurt or in trouble or about to run off; when most people would think that the dog is probably just alerting the house of a guest, or simply just being a dog.
And so, because I don't want to constantly worry about the dog's wherabouts, or freak out over strangers breaking wine glasses and wandering aimlessly through the house, I'm leaving for the weekend. I figure that way everyone else can have a splendid time without me being the killjoy in the corner.
*sigh*

Mon., Sept. 23, 2002
I should have studied Latin
For the past two weeks I've been doing nothing but learning the binomial nomenclatures for so many plants I'm beginning to wonder how there's room on this planet for insects and animals.
Since I'm a visual learner, I've made tags for every plant I have inside and outside the house. The each tag has the Latin name, pronounciation, common name, family name and country origin. Needless to say, it took me most of the day Saturday. If you'd like to see the tags you can see them here.
By December, I need to ID over 100 plants by their Latin names and be able to pronounce them correctly. This may not sound so dire to some of you, but Latin is not as easy as you would think. For example, how do you suppose one would pronounce the plant:
Cotoneaster
Well it's NOT cotton (as in the fabric) or Easter (as in the holiday). It's actually Kah-TONE-ee-aster. Go figure.
Guess I better start making those flashcards.
MORE FUN:
Discuss

Mon., Sept. 16, 2002
The Bonnie Sitcom
If you think your life is crazy enough to be a reality TV show, maybe you should enter My Life is a Sitcom?
Our show would be great. A computer geek, an Armenian, a hippie chick, a faux psychic and a crack puppy all together in one house! Take away the water and see what happens! "Hey, who drank the last RC? I will cut you!"

Sun., Sept. 15, 2002
My So-Called Mob Life: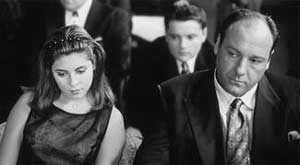 My pals are watching 13 hours straight of The Sopranos this weekend to get ready for the season debut tonight. We're having an Italian feast dinner to celebrate. I'm tempted to tease my hair and wear Lee Press-On nails. Heh.
More Sopranos fun: - All your favorite quotes from the show in one spot.
The Sopranos on Location - Where IS Bada Bing anway?
Mob Name Generator
WMOB: The Wiretap Network - The Smoking Gun folks got their paws on some old FBI wiretap reports documenting phone conversations between old-guy mobsters Frederico "Fritzy" Giovanelli and Frank "Frankie California" Condo. If you like watching "The Sopranos," you might find their discussions to be entertaining, even though they mainly talk about baseball, moldy food in their fridges, hot chicks and horse races.

Tues., Sept. 10, 2002
Highlights of Ian's Wedding Shindig in Los Angeles

Ate a quick dinner at Zankou Chicken
Dressed up and danced the night away to old hip hop and '80s hits.
Saw Mike D. from the Beastie Boys at the reception.
Witnessed my beau and all his pals "dance" with abandon.
Finally met one of my favorite Web writers face-to-face - Mary Chen.
Found out from Allison that there's an entire first season of Law & Order that I've never seen.
Met Allison's pal Trevor who actually went to high school at Poudre H.S. when I was attending Rocky Mountain High School in Ft. Collins. Small world.
Checked out Justin and Allison's impressive pad in San Diego.
Spotted more agaves than I've ever seen in one area.
Visited Amoeba Records in Hollywood and bought an Apples in Stereo EP I've been searching for. Noticed that they use the Winamp player in their listening stations. Right on!
Thanks for inviting me to the wedding party, Ian and Julie! I had a blast.

Thurs., Sept. 5, 2002
I'm in BUST magazine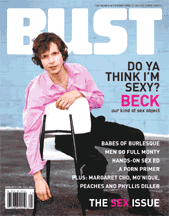 Just letting you all know that a book review I wrote about punk singer/writer Exene Cervenka has been published in the Fall 2002 issue of BUST magazine. (Beck is on the cover).
It's on page 94 as the Lit Pick.
Yipee!



Sun., Sept. 2, 2002
Which Horror Movie Psycho Are You?

What horror movie psycho are you?