Fri., Jan. 31, 2003
whew
Things are much better in Bonnie World. Honest.
Now I'm working on my latest issue of Grrl Zine. I'm putting together interviews with outsider artists and people who transform trash into treasure. I'll post something here when it's ready for mass consumption. I'm also starting another print zine called DIY or DIE all about DIY culture involving zines, writing, art, gardening and more. So stay tuned!
Also I finally sent out another installment of my weekly column that was on hiatus for awhile: The Phreaky Phriday Phun Linx. This week read all about hubcap art, flight attendant uniforms, creepy anatomy drawings and more!

Thurs., Jan 30, 2003
blah
I haven't been updating my blog lately. I guess life gets in the way more than you think. Been going through some crappy stuff involving love, friendship and stability. I wish I had some infinite wisdom when it came to relationships -- whether it be romance or friendship. I seem to be pretty clueless. Just when I think I have some sort of grasp of the situation, something happens that makes it all tangled up again. *sigh*
I know none of what I'm writing makes sense, but I guess I needed to say something so no one thought I fell off the face of the earth. All I know is that I'm a hope addict and I can only wait and see.

Sun., Jan 19, 2003
Sock pets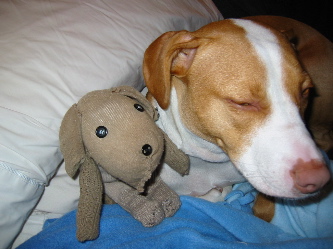 I'm a bit of a crafty kid, so when I saw that my pals online were using up their single socks to make cute little dogs I had to join the fun. Here's my first sock dog ever with my real pooch Sophie. What do ya think?
Turn old socks into cuddly pets:
DIY Sock Dogs

Mon., Jan 13, 2003
Don't throw out that pineapple top!
There's something very satisfying with getting a free plant from something you would normal throw into the trash. If you ever buy a pineapple from the grocery store, be sure to save the top and stick it in a jug of water to start propagating your own pineapple plant! It really works and pineapple plants really make dramatic houseplants...
Here's how: DIY Pineapple Plant

Sun., Jan 12, 2003
Put the "fun" back in "fungi"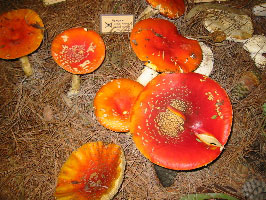 Today I spent the better part of the day with fellow fungophiles at the Fungus Fair in Santa Cruz. I watched mushroom cooking demos, gawked at shroom art and took snapshot after snapshot of the mushroom exhibits. Of course I also stuffed my face with mushroom quiche, lasagna and fritters. If I wasn't so full, I would have tried the mushroom cheesecake. I had a blast! I totally geeked out bought a Fungus Fair t-shirt and signed up to be a member of the Fungus Federation of Santa Cruz.
Yet I was kind of hoping that the festival was more, I dunno -- weird. It felt more like a science fair than a wacky fugophile gathering. I guess I invisioned a weird guy dressed in a mushroom costume wandering around shaking people's hands. I suppose I have bizarre expectations when it comes to festivals. But I can't be too far off-base. The Gilroy Garlic Festival has a garlic girl pagent and everything!
Of course, I was so obsessed with mushrooms that I immediately took the dog for a walk so I could snoop around for wild mushrooms around our house and take some more photos with my digital camera. I have a feeling that my plant journal for the next few weeks will be mainly about shroom gathering.

Thurs., Jan 9, 2003
Grow your own
Ever since I could use a Bedazzler I've been making my own sassy tees. Thanks to Cafe Press, I can make even more (without the sparkles though). I just added two tee designs to my Grrl-O-Rama Store I think you might dig -- "DIY or DIE" and "Stop funding terrorism. Grow your own."
Let me know what you think.

Wed., Jan 8, 2003
Branching Out...
After much pondering I think I've finally decided what my next tattoo will be. Granted the first and only tattoo I ever got was a fallen angel on my back left shoulder when I was 18. Now at 30, I think I'm ready to go berzerk and get a full back tattoo of - believe it or not - the Tree of Life. I just don't know what illustration of it I want yet. The Jewish one is more spherical and looks less like a tree we see in parks. The Celtic version of the Tree of Life looks extremely designy. So I'm at a loss. If you have any ideas, or want to volunteer your talents to draw a really large, noble, mystical-looking tree for a tat, I'll all eyes.

Mon., Jan 6, 2003
Evil Squirrels and weird fungus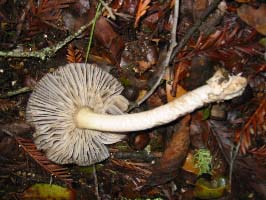 We were without Internet access all weekend thanks to some hungry little squirrels who literally ate through the T1 line.... WEEEEEEEEEEEEEEEEE!
And so instead of my usual writing online, I decided to take a much-needed break and read a few books. One of the books I've been reading, All That the Rain Promises, and More ...: A Hip Pocket Guide to Western Mushrooms by David Arora, makes me want to head out into the forest with a basket and collect as many safe mushrooms I can find! Of course, I got the book so I could study up on shrooms before I attend the annual Fungus Festival in Santa Cruz this weekend. I may even become a member of the Fungus Federation of Santa Cruz. It's official -- I am now a hippie.

Fri., Jan 3, 2003
Fly away
Sometimes I come across a little animation on the Web that makes me glad people out there still have imaginations. If you have a few moments to spare and want to see why I still like to accidently stumble upon creativity online, then do yourself a favor at play with

Wed., Jan 1, 2003
Happy New Year!
Yipee! Another even year out and an odd year in! I'm trying to still determine what my New year's resolutions will be for 2003. All I know is that all of the resolutions will have only stuff to do with what's going on inside me instead of the usual "must look like Maxim girl at all times" mantra.
Here are a few of my resolutions for 2003:
Expand my mind with classes and various books.
Read at least one book a month.
Master the art of growing the perfect tomato.
Take yoga classes -- WEEKLY!
Take more walks with the dog.
Make more pals outside the usual group.
Drum up more freelance writing work.
Get published in at least 3 major magazines.
Do something I've never done before.
Travel more - maybe abroad since I've never been outside the USA.
Learn to knit or crochet.
Go dancing more.